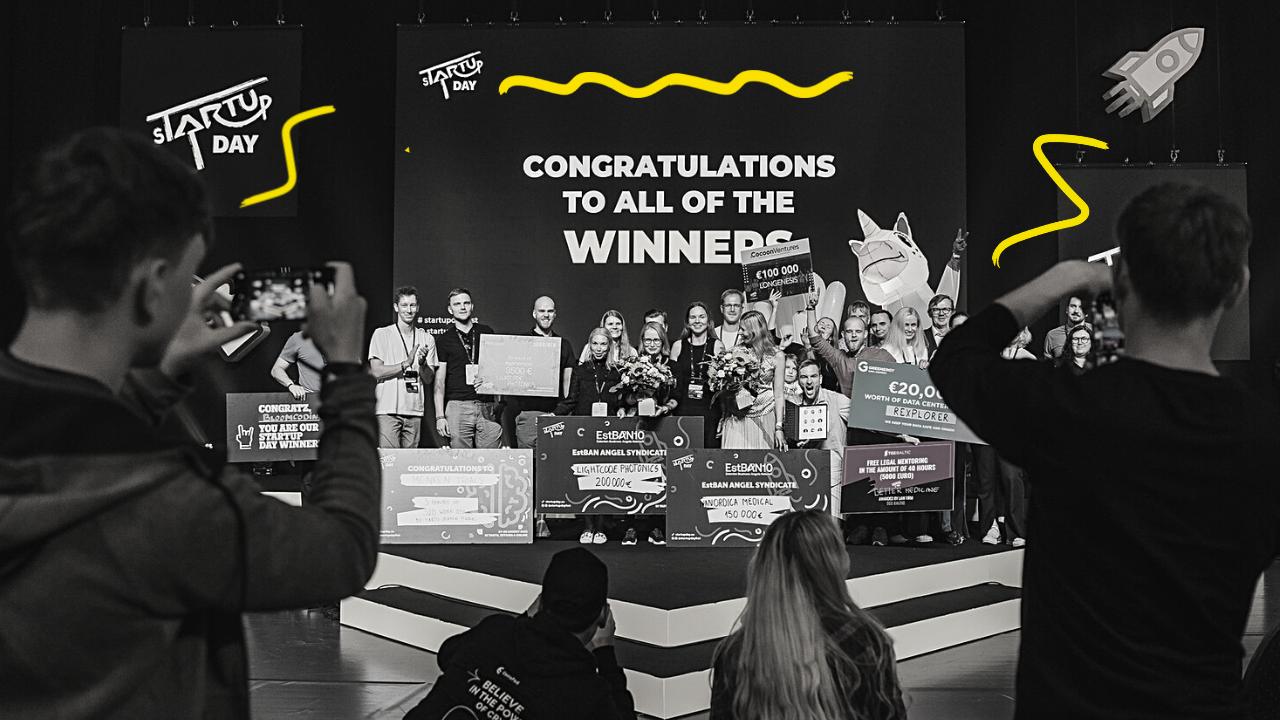 Announcing the TOP 40 of sTARTUp Pitching 2023!
It's time to unveil the crème de la crème of the 7th edition of sTARTUp Pitching! Altogether 271 startups entered the race. Check out which teams will go head-to-head at sTARTUp Day in March.
"It was truly inspiring to see that despite the shorter than usual application period, we had nearly the same level of interest in the competition," said Hanna Liis Remmelg, the head of sTARTUp Pitching. "As a result, we can expect to see pitches from strong teams covering a broad range of innovations. I am expecting a fierce and exciting competition!"
The TOP 40 teams will showcase themselves at the festival's pitching stage on 16 March. The TOP 5 will get the chance to pitch again on the main stage on the evening of 17 March, after which the winners will be announced.
The teams will be competing for an impressive prize pool. EstBAN is putting together an angel syndicate to invest up to €200k in one team from the sTARTUp Day 2023 deal flow. .Cocoon Ventures is leading a syndicate to invest up to €100k in one team. The latter investment also includes the founder(s) ticket to join .Cocoon Program for one year.
In addition, Swedbank gives out a €10k equity-free cash prize. Sorainen offers legal support worth €7500 and TGS Baltic legal mentoring in the amount of €5000. Tartu Science Park gives out a three-month membership in their S2B Work Space.
Now, the TOP 40 startups that you will meet at sTARTUp Day (in alphabetical order):
⚡️ Bilance is an app that helps people save money and make better financial decisions.
⚡️ BrachyDOSE is a game-changing technology made to help oncology doctors to prevent up to 100% of cancer treatment errors.
⚡️ Bruntor is developing an electric micro-mobility vehicle with four wheels for person and cargo transportation.
⚡️ Cashy helps banks acquire new clients and increase client engagement with a financial education game.
⚡️ Complok is a regulatory technology company that provides a Digital Compliance Risk Management Platform for Banks & Fintechs.
⚡️ Coursy.io is an efficient corporate learning system for onboarding and reskilling.
⚡️ Cryplect is developing tools to help professional sports leagues to engage sports fans digitally.
⚡️ FaradalC Sensors is creating the world's smallest oxygen-sensing microchips to fill an unmet need in next-gen devices.
⚡️ FUNKI is creating a new food from mycoprotein that is tasty, healthy, and environmentally friendly.
⚡️ Gearbox Biosciences is eliminating antibiotics from protein production.
⚡️ GIG-A helps you create a 100% mobile, simple and hassle-free bank account in Japan that you can use in your own language.
⚡️ Golbriak Space is developing high data rate telecommunication terminals for small satellites using laser technology.
⚡️ GScan is developing scanners that use natural atmospheric rays to detect objects and classify materials.
⚡️ Hotelbuddy fully digitalizes the hotel guest journey from check in to check out.
⚡️ Inguro is a sales intelligence platform with relationship intelligence for B2B consultants.
⚡️ Jälle is giving new value to hazardous waste Li-ion batteries through recycling and reusing.
⚡️Lovena wants to help singles fulfill their dreams of finding a long-term relationship by creating a relationship platform.

⚡️ Mati Foods is developing meat and seafood alternatives from mycoprotein to enable flexitarians to enjoy healthy vegan food.
⚡️ MELP is an employee engagement platform that helps to attract and retain talents with innovative benefit communication.
⚡️ Menken Trials tackles inefficiencies and incompliance in clinical trials for faster drug delivery with lower costs and time.
⚡️ Mifundo has created an AI-based platform that makes cross-border lending possible for banks and consumers in the EU.
⚡️ MX Labs is developing a camera-based holistic health assessment for the early detection and prevention of chronic diseases.
⚡️ Nelinor has created a battery-based energy storage system that is ready to plug and play into any wall socket.
⚡️ Paul-Tech helps farmers make sustainable everyday decisions based on real-time soil measurements.
⚡️ Peero is building a people asset management platformt that combines people analytics and a values-based recognition platform.
⚡️ Raison is a mobile app offering pre-IPO investment opportunities from less than 100€.
⚡️ RapidWorks digitalizes industrial workflows in weeks instead of years, bringing transparency into processes.
⚡️ Real Research is creating mini-organs living in a petri dish as a tool for drug discovery and the future of regenerative medicine.
⚡️ RobotQA is a mobile application/mobile website test automation system and phone park.
⚡️ Sepsiscan is developing a medical diagnostics device for early sepsis diagnostics.
⚡️ SimpleCharge builds and distributes EV charging devices that can be easily installed on lamppost infrastructure.
⚡️ Sonai re-invents heart diagnostics by bringing next-generation tools to primary health care.
⚡️ SpeakTX has created a digital speech therapy platform to innovate the therapy process by making it more effective.
⚡️ Sutu is developing reed items to reduce the use of fossil materials and fulfill ESG with local bio-based sources.
⚡️ TerraWaste is developing a thermochemical conversion technology that converts plastics into synthetic crude oil at elevated temperatures and pressures.
⚡️ Triall is an end-to-end eClinical SaaS platform of blockchain-integrated solutions for clinical trials.
⚡️ UP Catalyst is turning CO2 into highly valuable nanocarbons and graphite for the EV battery market.
⚡️ UpSteam is a full-stack fleet care platform for shared mobility.
⚡️ Vectiopep develops a new type of cancer immunotherapy with its unique mRNA delivery technology to transport therapeutic compounds into the patients' tissues.
⚡️ Yanu creates fully autonomous AI and robot-empowered service units.

⚡️ Zenoo
is a personalized monthly subscription service of raw food for dogs.
Congratulations to everyone, and see you at sTARTUp Day!
Articles you might also like: