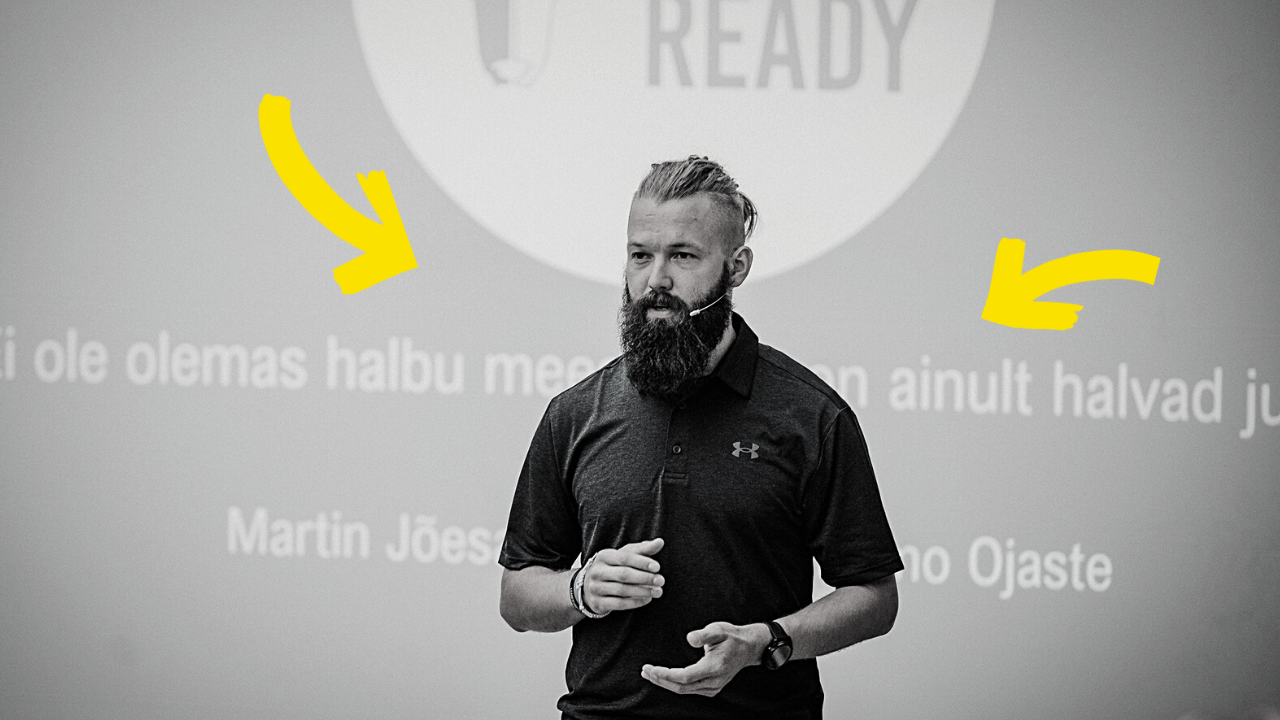 Combat Ready – the training company that makes your team unstoppable
Combat Ready is a training company whose practical leadership training courses are based on methods used in the special forces units of the Defence Forces. We spoke to Co-Founder Remo Ojaste about applying battlefield principles in the civilian world, great leadership, and achieving success in life.
Both Combat Ready's co-founders and the majority of the team have a Defence Forces background. Recently the one-year-old company was awarded the title of Estonian Trainer of the Year 2022. Already in March, you can hear the tem share their insights on sTARTUp Day 2023 stage!
This article was written by Kai Ly Kröönström, a member of the sTARTUp Day communications & marketing team.
How did you move from a military background to starting a training company?
I have a military background. I trained and worked in the Estonian Defence Forces Special Operations Force for eight years. When I retired, I started working at Milrem Robotic, which back then was a defense sector startup. For three years, I was responsible for all the sales of unmanned "tanks" in my regions which were the Middle East and Southern Europe.


I noticed that people had very uneven knowledge of leadership fundamentals. In the special forces, everyone is a leader and the fundamentals are the core aspect of everything. It is accomplished by extremely practical training. We realized that practical preparatory training is something that could be improved in the civilian world.
While in the Defence Forces, you are preparing for war for years, in the civilian world, you immediately join the battle, figuratively speaking.
Here's an example: a battlefield is a stressful place where there is never enough information or resources, and decisions have a big impact. The biggest difference between success and failure by far in combat is leadership and teamwork. In the civilian world, and especially in startups, the environment is similar, but there is no time nor practical preparation.


When you think about the training methods used in preparation for sending someone to war, the most critical part of training is the environment; you need to fight like you train. The training environment has to be very similar to where the actual work will be done. Real situations are played out to create awareness of your behavior patterns under stress and you need to implement new feedback you receive into your standard operational procedures. You need to learn from your mistakes fast; otherwise, you will die.
What has been starting your own company like?
The idea to create a training company based on the methods of the Defence Forces came to me about three years ago, but the time was not right yet. I listened to a podcast with retired officer Jocko Willink that clicked with me. Jocko has set up a training company based on taking responsibility in the US and has built a well-known personal brand. I thought why not try to do the same in Estonia? I contacted my good friend Martin Jõesaar and the ball got rolling. Martin already had the first client and since then, everything has happened very quickly. We founded Combat Ready a bit more than a year ago, but have already managed to grow into a 14-person team and have been awarded the Trainer of the Year title.


How is Combat Ready different from other training companies?
Our knowledge and practices have come through preparation for battle, but we have been using them for many years, both in business and in private life. Because we apply the principles we teach on a daily basis, we are convinced that they work even in the most difficult circumstances. In addition, the knowledge and skills we teach in our trainings are easy to acquire, comprehensive and practical.


In our training courses, we offer a comprehensive solution that consists of leadership tools, practical knowledge and real examples of how to apply these principles. We teach how to make teams work purposefully and how to methodically train and develop them.
Also, we are not a typical one-man consultancy but a team of people with different leadership backgrounds, experience and knowledge. Therefore, we can discuss leadership challenges with each other and find different perspectives inside the team. Training that each instructor provides has the same framework but is delivered from their unique perspective and view, which enables us to keep our examples unique and personal.
What role does practice play in all of this?
In our training courses, we try to avoid teaching how to swim standing next to the pool. Instead, we throw people into the water so they can really test their abilities right away. If a person realizes that he cannot swim and starts drowning, we direct and teach simple ways how to deal with the situation. For example, at the beginning of Field Training Exercises (practical leadership training), we keep the theory short, after which we get to the practical part, where we do weapons training and hand out safe laser weapons. We assign leadership roles and the newly-formed team with its new leaders has to really lead.

The best part of the training is that everyone gets instant feedback, which is often lacking in everyday life.
We have created a live environment for the team's development. The scenarios are designed to bring out the essentials of the principles and if you are part of it, you will remember them with your whole body and mind. In our training, we forget about everyone's ranks and roles in real life and we train and try out different roles to see situations from different perspectives.
How would you explain in one sentence the principle of "extreme ownership"?
In one sentence: do not look for excuses, but find solutions. We follow the same principles that we teach individually, both in everyday life and in our company.


What kind of feedback have you received from participants so far?
We have received a lot of positive feedback. For example, that if you look at the world through the perspective used on the battlefield, your whole paradigm of thinking and acting changes. If participants make a mistake in teamwork in our training or, on the contrary, do something very well, they are given immediate feedback.


During the training, people quickly discover their weaknesses and see if their actions help the team achieve good cooperation or if they are, for example, micromanaging, talking too little or too much, etc. All such things are revealed in the course of the training.


What are the qualities of a good leader?
The most important characteristic of a good leader is humility. Often, leaders and people let their EGOs take control of them. People with big egos think that they are the smartest, which makes them think that only they always have the best ideas. Due to that, they do not listen to other opinions. If you force your own ideas on your team, it is very hard for the team to take ownership of the execution because it is not their plan. If you want your team to take ownership, then as a leader, you need to let the team come up with a plan.

In special forces, there is a saying: I want to be able to have a say in how I die. Best plans come from teamwork, not from leadership.
The first law of combat, "Cover and Move," implies that the enemy is not inside the team but outside the organization. The opponent (competitor) will always win if teamwork works against itself. You have to use your team's potential; as a leader, you can not think you are the smartest person in the room. Leaders often fall in love with their success, and if that happens, success will be short-lived.
What is your advice for anyone wishing to be more successful?
My number one piece of advice: Look in the mirror; check your EGO, start with yourself. Understand which area you have shortcomings in. You could make an Excel table of your life. People function the same way as companies, and you are the leader of your life (company). For instance, we have our PR department, financial department (that is, our relations and financial situation). First, gather information about yourself and identify which things are important to you. Then give them honest ratings and decide which aspect of yourself you want to improve. Next, begin to gradually improve the average score of your life.


We need to focus on what we can change, and what we can always change is ME. We can always change our own attitude. We can't control everything, but we can still do a lot. Taking ownership is a method of living a simpler life, and is more likely to lead us to success.


If you found a goldfish, what would you wish for?
I'd wish people to be more open to new thoughts. Often, especially in stressful situations, people get stuck in problems and do not see the big picture necessary to solve them.


You gave a packed seminar at the last sTARTUp Day and will be stepping on the big stage at the next festival. Who should definitely attend sTARTUp Day in your view?
I recommend everyone to attend sTARTUp Day. Events like these broaden our horizons. If you are active, you can talk to very interesting people whom it would be impossible to meet in everyday life. The potential of sTARTUp Day is growing every year and I am grateful that Combat Ready and I can be a part of this major event and speak on the sTARTUp Day 2023 stage already in March.
Check out the other announced speakers of sTARTUp Day 2023 and sign up for our newsletter to be the first to receive news and offers.
Articles you might also like: