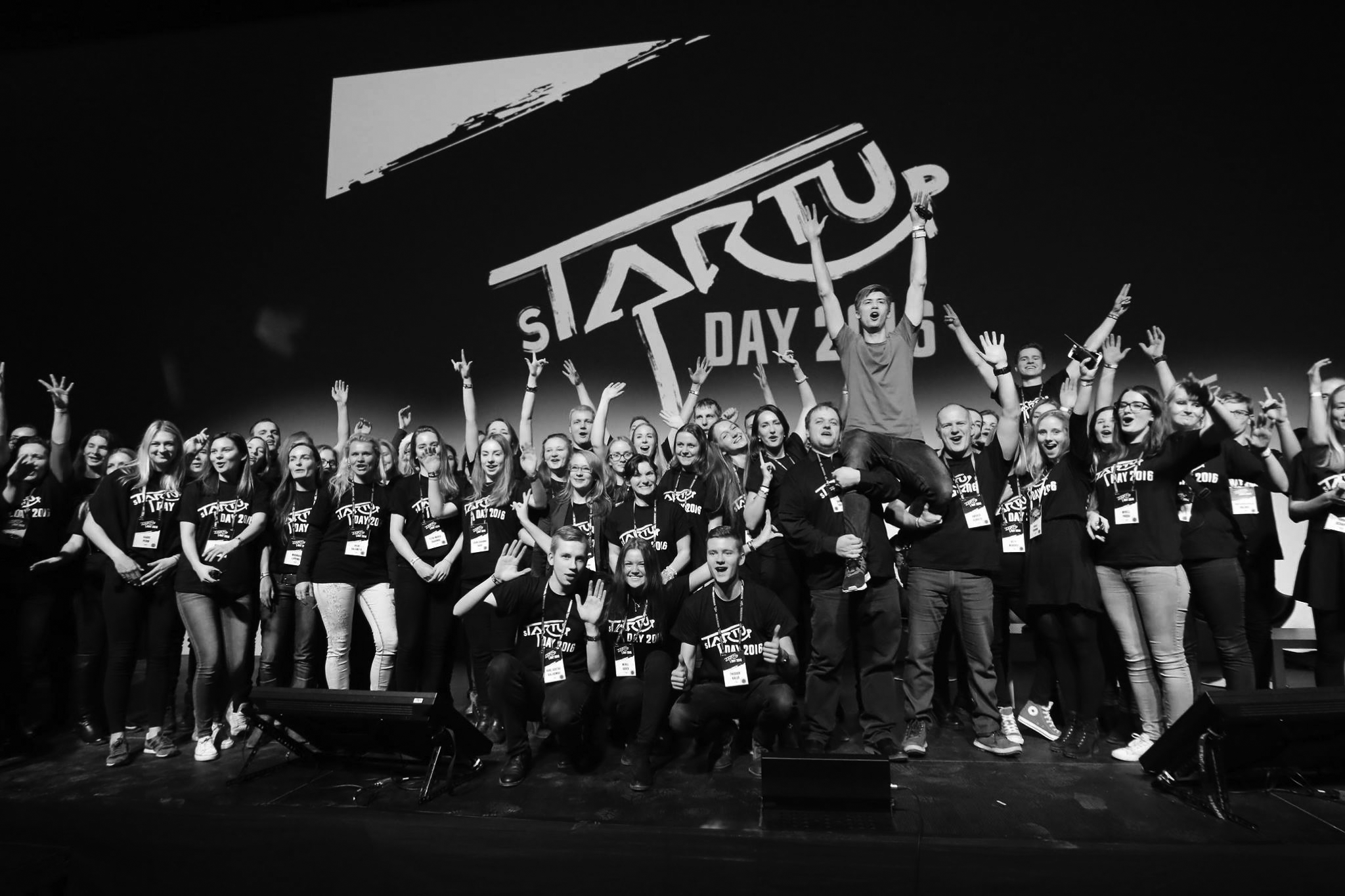 From community to the world – how did sTARTUp Day begin?
sTARTUp Day 2019 is in about two weeks, can you believe it? But before we move on by introducing the current year's speakers, let's have a little flashback to how it all started.
How did a festival with an estimated 400 visitors grow into 3000? Let's have a look at the first sTARTUp Day, which took place in December 2016. We will take a trip down the memory lane with
Andres Kuusik
, one of the founders of this idea, and with
Lauri Sokk
, the first project manager.
But before that, let's make one thing clear – why is this festival named sTARTUp Day? The answer is very simple –Tartu is the only city in the world which is also in the word "sTARTUp".


How did sTARTUp Day begin and why was this brought to life?
Andres:
We came up with this idea at the beginning of December 2015 at .Contriber Hub (currently sTARTUp Hub –
ed
.), at Buildit's Demo Day, where the companies in Buildit's accelerator had to pitch to investors. The event was very cool, but there were practically no investors present. Since I had just participated in an event of Tartu Centre for Creative Industries and we had just held a competition called Kaleidoskoop. And I thought about us having so much amazing events happening but all of them being too small for anyone to know about and not being attractive enough to be appealing to investors or journalists from Tallinn. Since I had participated Slush in Helsinki, I had a vision about having our own Slush in Tartu.
The first time I pitched this idea in a sauna. We have a tradition to go to the sauna once a month with the key people of Tartu's enterprise development organizations (Tartu Science Park, Tartu Biotechnology Park, Buildit, .Contriber, Tartu Centre for Creative Industries, University of Tartu and Tartu City Council), who, luckily or not, are all men. The idea received positive feedback and we decided to invite all of the most important community members together and to hold a big meeting on the penultimate day of the year in Tartu Science Park.
During the meeting, we set a date for the event – December 7th, 2016. Our idea was that if everyone will hold their events separately in December, everybody can attract about 100 attendees and there is no influence. But if we hold all our events at the same time under the same roof, then we could gather 400-500 people and that would be attractive enough to get people to come from Tallinn and the event itself to stand out more.
People always say that it's an amazing experience and that nobody could've expected something like this happening in Tartu. – Andres Kuusik
Lauri:
For me, sTARTUp Day began in spring 2016, when I was just finishing my master studies in marketing at the economics faculty of the University of Tartu. Our marketing class was pretty small, so our lecturer Andres Kuusik knew about everybody's activities outside of school.
Back then, Andres' brief to me about the event was very different from the reality, of course. It was something in the lines of: we will do a startup event, one keynote speaker, maximum of 300-400 people, takes place in Estonian National Museum's conference room and you have to organize it. Since I was pretty busy with starting my own event marketing agency Kolm Õuna, this deal seemed pretty good to me – a one-day event, pretty low number of visitors, existing funding, good salary etc. But this was just the beginning.
What actually happened was that this little startup event came to be the biggest business festival in the Baltics. All in all, there were over 3000 participants, 60 speakers and instead of one conference room, the event took place in the whole building. The two-man team of me and Kuusik had developed into 100-member team, although I was the only one receiving a salary.
What actually happened was that this little startup event came to be the biggest business festival in the Baltics. – Lauri Sokk
What happened in approximately 7-8 months was astonishing. We were able to take this small idea to another dimension. Our secret recipe was a lot of organizations and enterprises in Tartu, who were involved and believed in this the same way we did. Besides the legendary Rock basketball games, this was the second time I personally really felt "the spirit of Tartu" and the urge to do something in this city.
Plans made and goals set – what were the biggest challenges in making sTARTUp Day happen? What were your expectations and what was the reality?
Andres:
On one hand, the first year was the hardest, because it was our first time doing something like this. But on the other hand, it was the easiest. All involved parties were full of enthusiasm. Nothing was impossible, everybody's eyes were filled with sparks and even the craziest ideas were implemented. Also finding sponsors: we got very big sponsors on board pretty easily, although we were basically selling air at this point. But I guess our enthusiasm, belief in what we were doing, and optimism were noticed from afar.
My personal expectation was to have 700 visitors, which everyone thought was crazy. In the summer of 2016, half a year before the event, I started talking about 1000 visitors, and once again everybody thought I was crazy. But even I didn't expect 3000 participants, which in the end was the total number of visitors.
Lauri:
We had tons of challenges. Firstly, the location – Estonian National Museum, was quite of a challenge, because of the delayed construction works.
Secondly, "selling the air" – we told everyone around the world, including speakers that sTARTUp Day is the most awesome event in the world. At the same time, we didn't even realize that we had no clue how to make this awesome festival happen.
Thirdly, the financial side. Although University of Tartu, Tartu City Council and a lot of supporting organizations were on board and helped us, everything costs money when you organize a festival – starting from wristbands and ending with speakers' transport. To keep things in the budget, you have to find a lot of sponsors and be quite frugal. I think we managed to do that – we even ended up with a profit.
My personal biggest challenge was the huge responsibility. Andres had a major trust in me – I was 24 years old at the time and I had organized 15-20 events, biggest of these being a 500-people Christmas party. To give such a responsibility and free hands to a 24-year old boy is a big and an important thing – this kind of things should happen more in Tartu!
We have managed to put Tartu on the map of the startup world. – Lauri Sokk
What has been the most amazing feedback to sTARTUp Day you've received?
Andres:
All visitors have had a smile on their face every time. People always say that it's an amazing experience and that nobody could've expected something like this happening in Tartu. We got the most amazing feedback last year, as one participant told us that we were better than Latitude59 conference. And even better Slush, which in the person's opinion had gotten too big and unfathomable, but our event was exactly the right size.
Lauri:
The first thing I remember is the feedback from our team. I have worked on different projects with different teams but this type of warm feeling and the team we had during sTARTUp Day is something I'm definitely going to miss the most. Everybody was grateful for our contribution and valued this experience highly.
How has sTARTUp Day contributed to the development of Tartu?
Andres:
It has definitely put Tartu on the map – today everyone knows that startup scene is evolving in Tartu. Although the biggest contribution is getting all Tartu enterprise development organizations to collaborate with each other. This is a very unique thing in Estonia as well as in the world. Almost all employees of these organizations know each other's names and faces, because of the sTARTUp Day meetings we have almost every week throughout the year. We are organizing a big event but during this process, we also change information about different projects. This unites everyone.
Lauri:
sTARTUp Day has made a major contribution to the city's development. We have managed to put Tartu on the map of the startup world. Even Peter Vesterbacka, a start-up giant has been visiting Tartu a lot recently – he sees something special is happening here.
But the actual benefits are deeper. As Andres said – sTARTUp Day has been a uniting thing for all Tartu's organizations. Thanks to this, Tartu's startup community is very strong and collaborates with the University of Tartu and with the City Council on daily basis. Thanks to sTARTUp Day, many new enterprises and initiatives have born.
Where is sTARTUp Day heading towards and what role does this festival have in the future of Tartu?
Andres:
I believe that sTARTUp Day has reached its maximum capacity. We do not want to make it bigger than 4000-5000 visitors. It remains an inspirational event and the main event in Tartu's entrepreneurship world. We are definitely working towards it becoming one of the most important events in the Baltics, where everybody could come together each year. sTARTUp Day will definitely be a festival with lots of target audience groups and besides presentations, entertainment and networking are also important parts of this festival.
Lauri:
sTARTUp Day will remain to be the flagship of Tartu's startup ecosystem. If we're talking about designing a bigger ecosystem and about Fast Track Tartu's startup pipeline, then sTARTUp Day is the centre towards which early-stage startups strive. After which, they can start working in this ecosystem more seriously.
sTARTUp Day 2019 is taking place from 23-25 January. If you haven't purchased your ticket yet, which we bet you do want after reading this inspirational story. Please be guided to the
tickets page.
Articles you might also like: