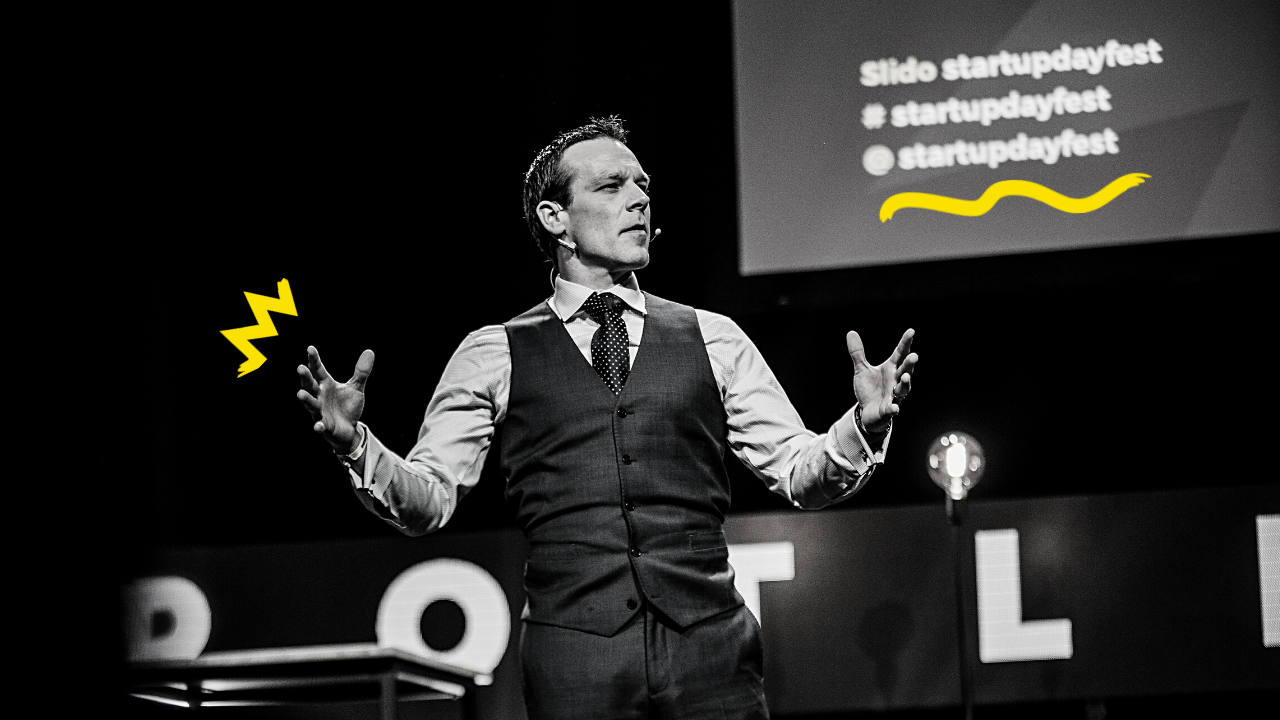 Jay Johnson on behavioral change and creating an organizational culture where people thrive
Jay Johnson works with people and organizations to empower teams, grow profits, and transform leaders using applied behavioral science. He is the CEO and Founding Partner of Coeus Creative Group, a TEDx speaker, and Forbes Business Council Member, who has given keynotes and workshops in more than 30 countries.
Jay Johnson will give a keynote on Day 1 of sTARTUp Day on 16 March.
Your talk at sTARTUp Day 2023 is titled "Why Entrepreneurs Fail: Exploring the Behavioral Drivers of Success." Could you give us a little preview of what you'll be talking about?
My background is in behavioral science, and I'm also an entrepreneur and a co-founder of a unique program that helps people and organizations understand the drivers of their behavior. In many cases, people don't understand how we make decisions and we are not necessarily in tune with how we manage motivation, address conflict, or even build teams.
My talk will offer insight into these areas so that entrepreneurs can better understand how to manage challenging behaviors and how to lean into their drives to be more successful.
Behavioral intelligence is about explaining, predicting and influencing other people's behavior as well as controlling one's own behavior. I feel like changing ourselves might actually be the hardest part. There is really no easy way to do it, is there?
Behavior change can be hard, but there are a number of strategies and tactics that we guide our clients with to help them accelerate change. It starts with awareness of our behavioral patterns. We often behave in a certain ways without even being consciously aware of why – we do it simply because we have always done so.
So while behavior change is a challenge, we offer simple tactics that are proven to work and easy to implement. One example is visual cueing. Say I want to listen more effectively in virtual meetings; I would simply place a sticky note on my computer that says, "Listen Attentively." Super simple, yet remarkable results.
Using behavioral science, we help people make changes in their lives a lot faster. We start by asking: "What behaviors are creating issues?" and "Where are they coming from?" Then, we help clients build solutions to change the behaviors more effectively.
You work with many companies and teams as a trainer and consultant. Which common problems do they seek to address – and how do you help them?
Conflict, motivation, management, engagement, and culture are the most common issues. Whether it is a startup or a Fortune 500 company, our clients want to thrive and survive but are held back by the most common challenge of all – our personal and organizational behaviors. It affects every aspect of the business – sales, customer service, employee engagement, and growth.
We try to help our clients holistically and start by seeking to understand their main challenge. For instance, if the company's customer service rating has a poor rating, we seek to find out why. It's not always as obvious as it may seem and that is what causes entrepreneurs to often fail. Is it resources, lack of empowerment, misunderstanding, unnoticed behaviors? Our behavioral approach helps diagnose the issue quickly and find solutions to actually work.
While we work with big corporations and entrepreneurs alike, we love working with startups because they are building their culture at the ground floor.
It's much easier to develop the right behaviors when a culture is not fully established. That can be an advantage over big corporations with a 100-year-long history.
We guide startups and founders with behavioral best practices that have a huge impact over a two to five-year cycle as the company scales. In fact, some of our biggest success stories come from clever startups who understood the need to get their culture right and incorporated the right behaviors for their success early on.
How to create a workplace where team members can openly discuss problems and each other's behavior? Does it require a leader who creates a structure for it? Or can it also be achieved bottom-up?
Culture is the responsibility of everybody in the organization. The leader plays a big role by setting the example and modeling the behaviors they want to see. However, we all have a personal responsibility to behave intelligently, no matter our position or title.
Our approach is that of a guide. We don't come in a team and say, "This is how you should behave." Instead, we ask, "What behaviors have helped you succeed? What behaviors are stopping your growth? How can we all agree on behaviors that we will move forward with?"
A really simple example is the behavior around handling mistakes. Do you want an open culture where mistakes are recognized as part of growing? Using tools such as an after-action report and establishing behaviors that build psychological safety would be essential. Setting that up in advance is really important.
It's not enough to have a clever value statement – founders and leaders need to live out their behavioral code each and every day.
In general, we all want the same things: high-performing teams, growth, profit, sales, etc. But every organization needs their own, custom approach. A one-size-fits-all just doesn't work, and sadly, that is often the entrepreneurs approach because they may not know any other way.
It's really important to have these conversations openly. It's not something to be ashamed of; we have all been in situations where our behavior or culture impacted our success positively and negatively. Leaders can play a big part in setting the stage for the discussions, but they also need to have the buy-in of their team for it to be effective.
Which other typical situations besides handling mistakes should be discussed in advance?
One big one is how we communicate within our teams or to our clients. When you send me a text message, do you expect a response within five minutes, an hour, or 24 hours? That should be discussed and established as a behavioral code. Establishing communication expectations can reduce conflict, build safety, and empower action.
Another is how we manage conflict. For instance, if you and I have a disagreement, how do we move forward? Is there a process for collaborative escalation? I have seen so many startups fail because the founders didn't plan for chaos.
In short, all aspects of an organization's culture should be well established and discussed in advance – decision-making, communication, management, performance evaluations, feedback, sales, customer service – literally all of it. Establishing a behavioral code of conduct allows us to build a culture where everyone can be at their best.
What do you love the most about your job?
I really enjoy helping people. As a founder and entrepreneur, I failed a lot. I had behaviors that I was completely unaware of that was limiting my success and hurting my growth. I've been in business for more than 15 years now and I remember the costly mistakes that made my road to success extremely difficult. I love helping people overcome the pitfalls I fell into, and I have learned that these mistakes are common and avoidable. My passion is seeing leaders and organizations thrive – especially when they have felt stuck or that their situation was hopeless and I can help them see the light at the end of the tunnel.
Many times in my career, I felt lost. Looking back, it all came down to behavior. So being able to guide people in navigating their own difficult journey is the most satisfying work I could ever ask for.
You have attended the sTARTUp Day festival in the past. What do you remember from the event?
I first attended sTARTUp Day in 2020, and I just remember the energy walking into the conference center, where everybody was buzzing and ideas were being thrown around. That energy carried me through the entire event, including when I walked onto the stage in front of hundreds of people excited to soak up knowledge and accelerate their growth.
The other thing that was so memorable was the incredible hospitality of the organizing team, who were creating a unique experience for every single attendee. I remember sitting in the speaker's lounge and interacting with other amazing speakers and how positive the energy and excitement felt. It was really remarkable!
Jay Johnson will give a keynote "Why Entrepreneurs Fail: Exploring the Behavioral Drivers of Success" on Day 1 of the sTARTUp Day festival on 16 March. See the full festival schedule.
Articles you might also like: