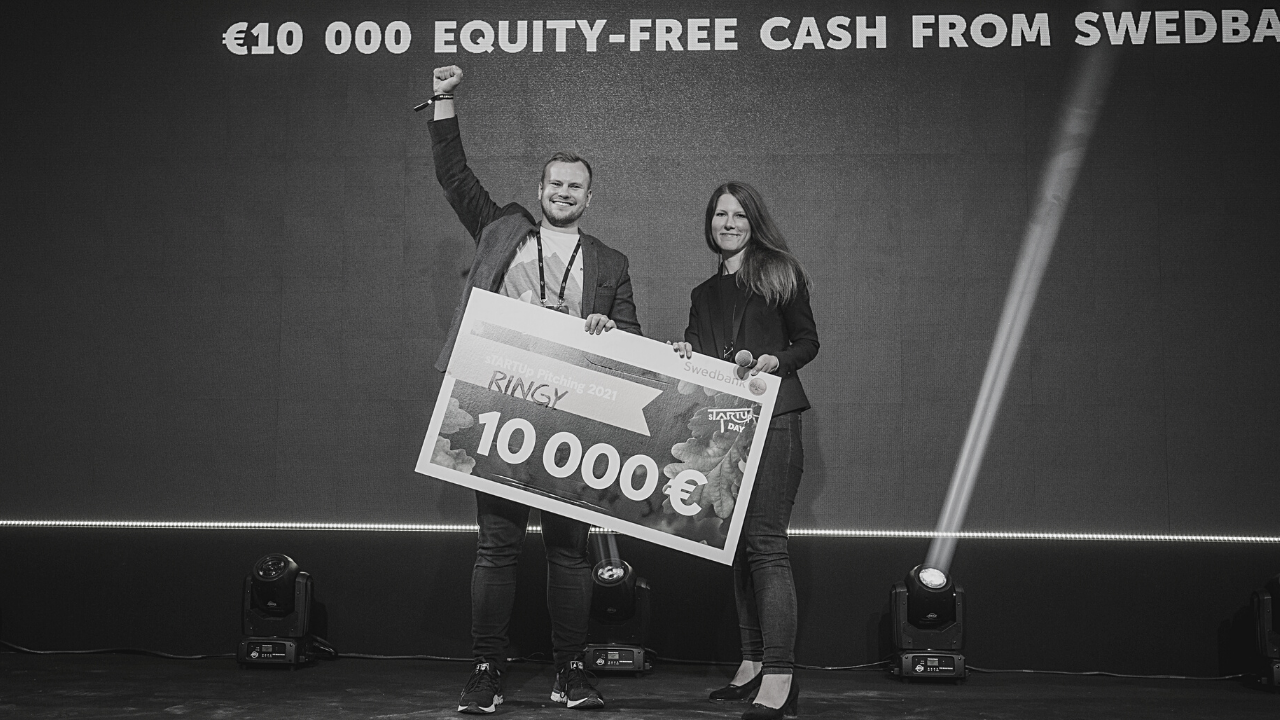 Kristo Kraft from Ringy: Sharing your good ideas with others helps you move forward
Kristo Kraft is the CEO of Ringy, a circular economy company that aims to reduce the waste of natural resources through refurbishing and recycling old smartphones, laptops, and other electronic devices. To date, the company has raised 500k from investors, among others from Startup Wise Guys.
Ringy participated successfully in the sTARTUp Pitching 2021 competition, where they were one of the seven finalists and took home Swedbank's special prize.


Kristo recommends all startups actively take part in similar competitions to move forward with their ideas. For instance, you can currently submit your sustainable business idea to the Prototron Green round (deadline 25 March 2022).
This interview was written by Kaarel Kutti.
Kristo, could you briefly describe what Ringy does and how the idea was born?
Ringy is a circular economy startup whose goal is to extend the life of electronic devices. From the start, we've strived to reduce electronic waste, the fastest-growing type of waste in the world. We tried to tackle the problem from several angles until at one point we discovered a fascinating piece of statistics - namely, that there were 800 million mobile phones lying around uselessly in Europe.


When our old devices are no longer fast enough or no longer make so good photos, we often buy a new one and leave the old one in the drawer, just in case. Fast forward a couple of years - the battery is dead and you can no longer use the device. The resources used to manufacture the device have also been wasted.
Our goal is to immediately "get" the device from people when it is no longer used. In this case, we can give it a second life after refurbishing. However, suppose the device is too old or repairing it does not make sense economically. In that case, its parts can be used as spare parts, or it can be disassembled and the raw materials directed into the production of new devices.


We have two main business lines. One is the purchase of old electronic devices – we buy mobile phones, tablets, laptops, computers, smartwatches, game consoles and the like from people and companies. We are trying to find ways to buy more different products from people. And the second activity is selling refurbished devices. Our partners refurbish the purchased devices, and we sell them in an online store so that people can buy a controlled preowned device.


In other words, you can buy up to 40% cheaper electronic devices that work as they did when they first came out of the factory. We also give all devices a 12-month warranty.


What prompted you to move forward with the idea - was it to fill a gap on the market?
This service has been available in Estonia and elsewhere for many years. For example, some electronics dealers offer you a discount for the new device if you give them your old one. At the same time, the customer interviews we conducted showed that when a device breaks down and people need a new one, they will quickly go to the store and buy one - without even bothering to take the old device along to get the discount.

We offer people money for the device, which is more motivating to them.
People can also send us devices conveniently through a parcel locker. For this purpose, we'll send the customer an environmentally friendly postal packaging produced by another Estonian startup, Woola – and the customer can return it to us at a convenient time and place.


Compared to the original idea back when you started, how has it progressed?
Over the past year and a half, it has changed enormously. Our main goal from the start has been to reduce the amount of electronic waste but initially, we planned to do it from a completely different angle. In the first six months, we made a total of four pivots. It looked very much like the "Chasing Unicorns" movie, where someone runs into the office in the morning and says, "Guys, I've got a much better idea".


At which pace has your business grown?
In May 2021, we started buying devices, and in September 2021, we started selling them. We're still doing both, but our turnover jumped after we began to sell equipment.
We grow about 20 percent a month, which is perfectly okay. By the way, we had similar growth numbers also at the beginning of the year, when electronics sellers usually see their turnover drop. We have continued to grow thanks to the diversification of our products, adding new customers and new markets.


Are you constantly expanding your reach outside Estonia?
We can ship equipment all over Europe from the very beginning, but we also entered the Latvian, Lithuanian, Finnish, Polish and Romanian markets this year. In this sense, the process is still ongoing, and we are assessing where the demand and potential are greater.


In the long run, we see a very big opportunity on the African continent, where we are constantly in communication with various companies and entrepreneurs interested in buying or selling preowned devices. We see a lot of growth potential there. But going there requires an entirely different set of knowledge, a different approach, and at the end of the day, someone probably has to be physically present there.


Our team includes people from Estonia, Romania, Latvia, and Nigeria, and we are constantly growing.


How much advice or feedback did you look for when developing your original idea?
Especially at the beginning, when the business idea was still formulating, so to speak, we did quite a lot of research and surveys. We talked to about 100 people to understand what the market needed and how the service might look. This helped us to develop the service.
However, quite soon, we made it to a business accelerator, where we had access to about 150 mentors. We might have had just 15-minute conversations with some of them, but we repeatedly held marathon meetings over several months with others. They were people with very different profiles from all over the world - it was truly awesome!


We've similarly had eye-opening conversations with investors, probably also around 100 of them. Even when the conversation's main motive might be landing some financial support, we've always used the opportunity to ask other questions, too. For example, do they have any ideas or suggestions on how we could improve, do they see bottlenecks in specific markets, etc.

What has been very exciting for me during our journey is that the more people I tell about our idea, the more exciting feedback I get.
Some people think that if you have a good business idea at the back of your mind, you should not tell anyone for God's sake or someone else might snatch it. My experience has been completely the opposite. Partners and advisors have come from surprising places. Therefore, I always encourage everyone to share their good ideas with others. You never know where you meet the next partner who will help you take the company to a whole new level.


There are many different competitions, programs and conferences for startups. Which ones have played an important role for you?
Startup Wise Guys was the business accelerator through which we got contact with hundreds of mentors. In addition, we were recently at the Web Summit in Lisbon, meaning we had our booth on a particular day in a particular area where we introduced ourselves, our devices and our thoughts to the visitors. It was exciting how some companies actually tracked us down to ask about our idea and plans.


It is a great compliment for us that big companies on a global scale, such as Google, BMW and the organization behind the Olympics, tracked us down and asked us how to make their business greener as well. When we talked to them, we realized that we were doing the right thing, but at the moment, we are just not big enough to work with such companies in terms of volume.


In addition, we learned through this conference that Estonian embassies can also offer a lot of help for entering other markets. So we have now used this opportunity to ask embassies and Enterprise Estonia for information and advice on new markets.


What is most important when participating in business accelerators, trade fairs or competitions? Is it the potential prize money/investment, advice from mentors/investors or the opportunity to simply show and introduce yourself?
I would say that the opportunity to introduce yourself is the most important one. This gives immediate feedback if people and companies in the region care about our idea in the first place. At the end of the day, we can all Google, find statistics and some numbers, but to learn whether what you do really matters to people and businesses, you need to communicate with them. But of course, prizes have also played an important role in boosting our growth.


You were one of the finalists in the sTARTUp Pitching 2021 competition and won a 10k equity-free cash prize from Swedbank. What did this prize help you accomplish?
When we won the award, we were already in the middle of various development and marketing activities. However, there was one specific expense that we were not yet sure of before the competition – rebranding and the idea to do a brand new online store as a next step. Thanks to Swedbank, we got the additional funds to rebrand and open a renewed e-shop. In other words, our website that you can visit today was largely made possible thanks to Swedbank's support.


What would you recommend to those start-uppers and founders who are still keeping their ideas under wraps? Is it worth coming and testing yourself at events like sTARTUp Day or Prototron?
Absolutely. I have worked as a business client manager at a bank and it has always been fascinating to talk to entrepreneurs and occasionally find out how some idea was born. I have learned that there are zillion things in the machinery of creating and running a business that you need to pay attention to.
Different programs and accelerators connect startups with experts in various fields, which can help you avoid many mistakes and, as a result, reach a working solution much faster.
You're usually not the first company these experts are advising. They have loads of experience and have witnessed many success stories. So, yes, I highly recommend it.


What is the minimum you should get in return for spending time on such events and accelerators?
The minimum is proof of your idea - whether your thoughts could work in real life and whether there's a market and demand in the first place. If there is, it is possible to start building everything else from there. If not, you may have the best marketing person in the world and other very good experts on board, but if no demand exists, there's nothing you can do.


How many companies currently see real business opportunities in the circular economy - reusing or upgrading materials and products?
I think there's a lot more potential than five years ago. It used to be largely part of greenwashing and improving the company's image, but now we can see a change in thinking. Planting trees with colleagues is no longer enough, and people really want to get something done. It's nice to see perhaps even a little boom emerging. For example, several companies already offer reusable packages, and many other companies want to keep clothes or other products in circulation longer.


We calculate how much CO2 we save as a result of keeping electronic devices in circulation. Last year it was 105 tonnes of CO2, which is equivalent to removing 23 cars from traffic for a whole year. So this is what our still small-scale activity can do for the environment!
Do you have a good idea of how to contribute to sustainability? Submit it until 25 March in the Prototron Green round or the next sTARTUp Pitching competition!
Read the interview in Estonian here. foundME is the official media partner of sTARTUp Day 2022, bringing to you top stories of the festival and Estonian startup community.
Articles you might also like: