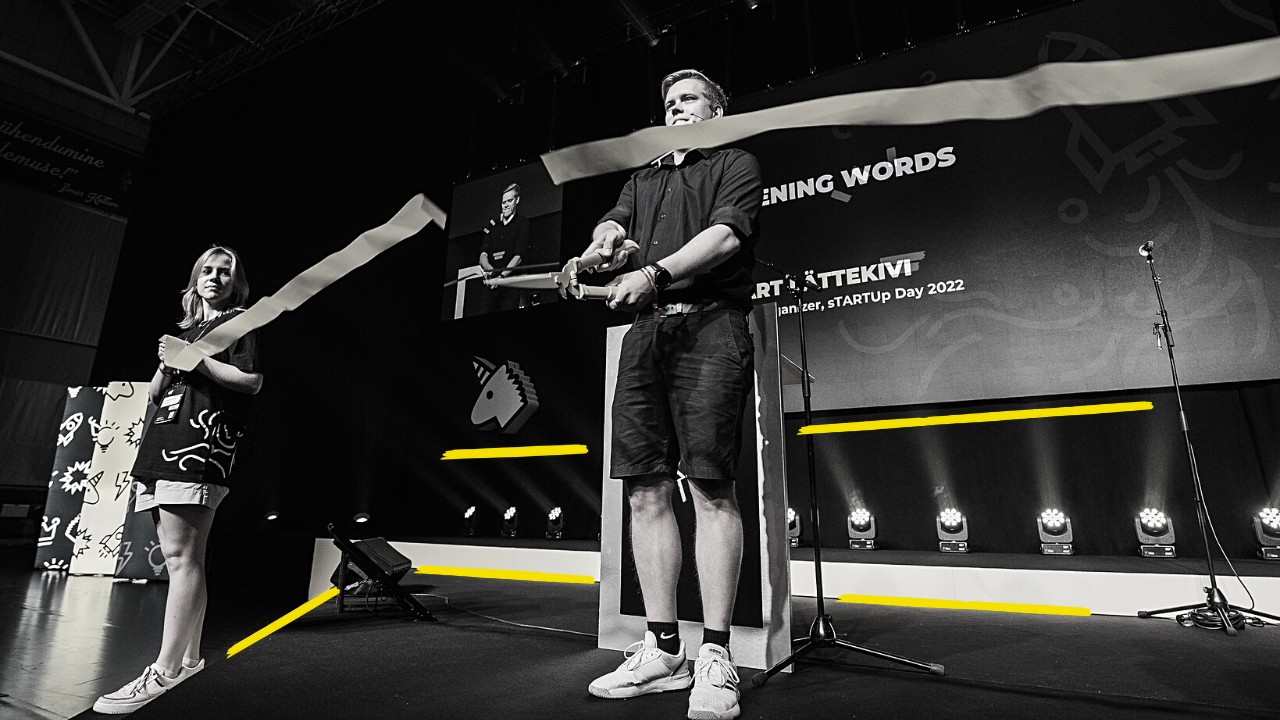 Let's have a sneak peek into sTARTUp Day 2023 program!
Are you eager to know who will be headlining and which hot trends will be discussed at the next sTARTUp Day festival? Wait no more, as we have unveiled the program highlights of sTARTUp Day 2023!

The 7th edition of sTARTUp Day will take place on 15-17 March 2023 in the familiar setting of the University of Tartu Sports Hall. We expect to host around 4000 startup-minded attendees and look forward to kicking off the event season with a bang.

"sTARTUp Day 2023 will be the good old festival that you already know but with a new shining touch and exciting additions," promises Head Organizer Mart Lättekivi.
"Just like startups, we are constantly innovating as a festival in order to be aligned with the needs of the ecosystem for whom this festival is organized," he adds.

This year, the program focus topics include HealthTech, EdTech, SexTech, Digital Fashion (Metaverse/AR) and Mental Health, though the list is not limited to these. "Every year, our ambition has been to introduce topics that everyone will be discussing tomorrow. This year is no different. We want to expand our visitors' and investors' horizons – enter SexTech and Digital Fashion," explains Head of Program, Artur Kamberg. As always, we'll also hear inspirational founder stories and delve deep into what it takes to build successful companies.
From international superstars to home-grown heroes
We have announced the first 20 speakers of sTARTUp Day 2023. Let's get to know some of the bright stars on this list.
Taizo Son – a world-renowned serial entrepreneur and investor who has led many startups to success. He is the founder of Mistletoe, Inc., a Collective Impact Community that advocates a new style of business through startup support to solve social challenges with a mid-to-long-term perspective.
Shannon Kalayanamitr – CEO at 5G Catalyst Technologies, and the IKIGAI Group, advisor at Gobi Partners Venture Capital, Shark Tank Thailand, and SuperAngels network in Thailand. Shannon has made her mark in the tech world by building businesses that drive impact and driving the ecosystem through tech investments.
Ilia Gogichaishvili – Vice President of Investment Banking at BTIG in New York, covering Emerging Technologies globally. Prior to BTIG, Ilia held various roles at BofA Merrill Lynch in New York, where he was Vice President of Global Equities Strategy and previously an Investment Banker working on some of the largest transactions across industries.
Patricia López Trabajo – CEO & Founder of MYHIXEL - a pioneering brand specializing in developing a revolutionary scientifically proven method that helps men and their partners to reach a new sexual level.
Of course, we'll also have on the stage a fresh batch of home-grown heroes who are building the next unicorn companies and innovating in a variety of sectors. For example, Timmu Tõke, CEO of Ready Player Me, a company conquering the metaverse one avatar at a time; Heli Valtna, CEO of LightCode Photonics that is paving the way in how machines and robots see the world, or the instructors of Combat Ready, seasoned veterans who transfer military leadership principles to the business field, to give just a few examples.

Check out all the announced speakers.
Celebrating entrepreneurship in the sTARTUp city
In addition to the stage program on two stages and a seminar program filled with practical insights, we will have all the usual components of an unforgettable sTARTUp Day in place.
The region's top startups will compete at the sTARTUp Pitching contest for a prize pool of over €350k. Nearly 100 organizations can showcase themselves at our bustling demo area, and there will be plenty of networking opportunities throughout the festival. On Day 0 on 15 March, 30+ exciting side events will take place, including Investor Day and Executive Day for investor and executive ticket holders. Don't miss the opportunity to visit the smart city of Tartu and recharge with new energy and inspiration after a long winter!


Secure your ticket to sTARTUp Day 2023 today, or sign up for our newsletter to be the first to receive festival news and offers.
Articles you might also like: