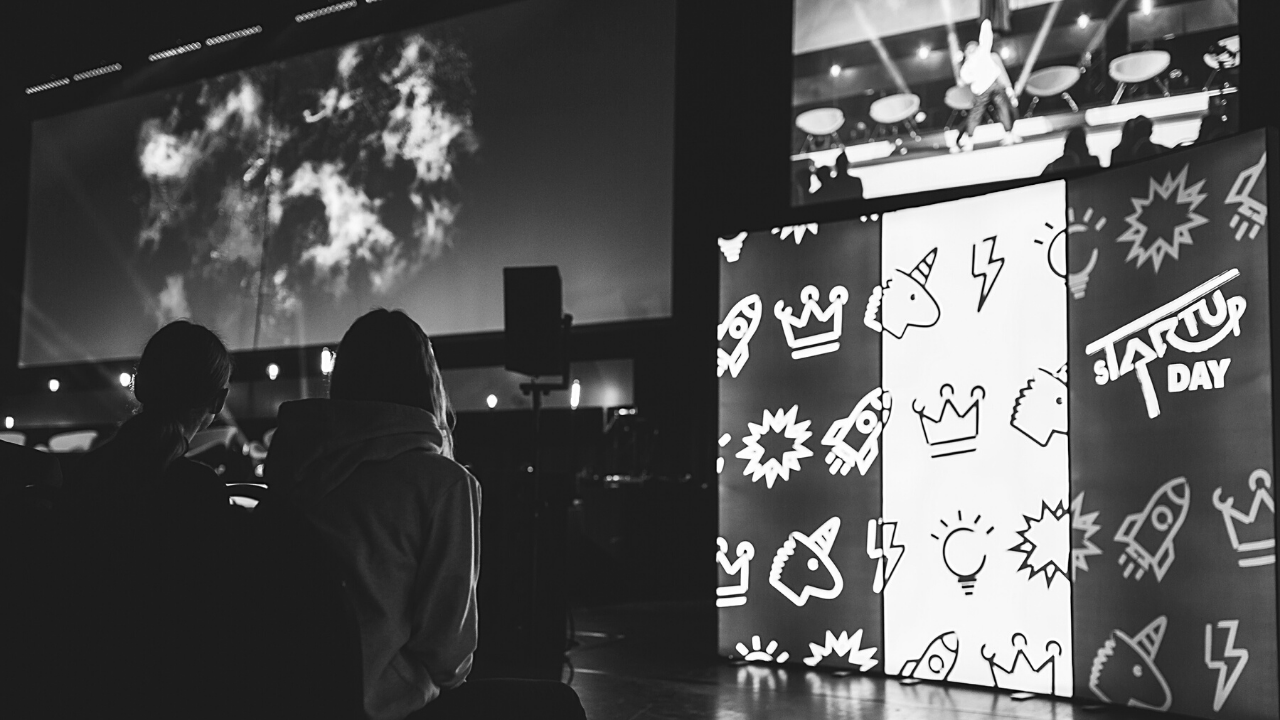 Get to know the speakers of sTARTUp Day 2021 – world-class experts with alter egos you wouldn't believe!
There are less than two months left until the end of the year. And probably there are quite a few of us who cannot wait this year to be over. Why? Because the beginning of a new year means that sTARTUp Day is just around the corner! So it is the last time to start exploring the speakers of sTARTUp Day 2021 as there are more and more speakers joining us every day.

Leading Innovation
On January 27, the
Leading Innovation
program will bring all the executives together for Smart Manufacturing Meetup and Smart Leaders Meetup. The day will focus on digital transformation, innovative leadership and smart solutions.
Ϟ
Anna Albert
Anna is the payment product owner at
Fortumo
, driving the product roadmap for payment solutions used by Google, Amazon, Spotify, Tencent, and Epic Games. In her role, she balances herself between the business stakeholders and engineering to deliver product features and improvements to customers. Anna is also an ambassador for TEDxKYiv, which she also helped organize from 2017 to 2018. At sTARTUp Day, Anna will talk about the challenges of remote work and give some solutions as well!
Ϟ
Kaarel Holm
Kaarel is co-founder and CEO of a recruitment app
MeetFrank
, one of the fastest-growing HR startups in Europe. He has also been the Head of Product Development at the biggest media group in the Baltics, Eesti Meedia. Kaarel's vision is that everyone should love their job, and that's also his main aim with MeetFrank. By the way, Kaarel was recently our
Hero of the Week
– we talked about the indicators of job satisfaction, making mistakes and analyzing them enough to take some learning points and never repeat them again.
Ϟ
Ants Vill
A young VP at the ultracapacitor-based energy storage company, Vill is responsible for building the
Skeleton Technologies
production facilities in Estonia and Germany, with a combined output of 5 million ultracapacitor cells per year. He's been selected as one of "The 30 under 30 Europe: Industry" by Forbes. At the beginning of November, Skeleton Technologies raised €41.3 million in Series D financing round, bringing its total capital raised to over €93 million.
Chasing Unicorns
January 28 is all about
Chasing Unicorns
i.e. startups, investors and the startup ecosystem! Investor Day is an exclusive investors' meetup to share experiences, learn from each other, and create meaningful contacts. Startuppers have the chance to gain world-class knowledge about founders' psychology, leadership skills, product development, marketing and so much else. And of course, countless pitches, speed dates and networking!
Ϟ
Antti Niittyviita
Antti is best described as a source of energy in everything that he does. He runs a successful business of 45 software testing professionals –
Prove Expertise
. Over the course of these 14 years as a testing guru and a CEO, Antti has met more than 2200 people in one-to-one discussions about how to create level-ups in quality, resulting in a book called "Storytools of Testing". At sTARTUp Day, he'll give a speech on saving the company on the 12th hour.
Ϟ
Marie Jaksman
Marie is the Head of Growth & Marketing at
Nevercode
. Her tweet was the one that caught the eye of the product director of Google Flutter and got Nevercode on stage at Google I/O to launch their nail hitting product Codemagic. She'll present the story of Codemagic at sTARTUp Day and talk about marketing when a startup pivots. She knows how to build a company's international marketing strategy from scratch. Marie comes with a superpower – she can play the French horn and has been part of the Theater Vanemuine Symphony Orchestra for more than 13 years.
Ϟ
Johann Urb
Everybody who's seen the movie "Ükssarvik" ("Chasing Unicorns") remembers the energetic VC from the U.S. played by Johann. In his real life, Johann is a master communicator and mindfulness instructor who has been practicing and studying diverse types of mindfulness since the age of 14. His life's work is to help people discover and harness their inner strength and untapped capabilities through practices that are fun and empowering. Johann is the creator of Pyramid Breathwork.
Powering Inspiration
The last day will be the perfect balance of practical knowledge and a festival atmosphere. On January 29, the
Powering Inspiration
program will inspire all the startup-minded professionals from any field of work and walk of life.
Ϟ
Artur Schaback
Artur is the CPO and co-founder of
Paxful
. In fact, Paxful was just added to the #EstonianMafia Wall of Fame in LIFT99 Tallinn Hub. As a Developer Guru, Artur loves all things software. He has been in the IT sector in Estonia for over 10 years before co-founding a successful, global cryptocurrency marketplace. Artur loves active sports and has a flair for free- and scuba diving.
Ϟ
Nin Castle
Nin is a serial entrepreneur and textile waste expert having worked with both pre-consumer and post-industrial textile waste since 2006 when she founded Goodone, an award-winning sustainable fashion label that she ran for 9 years. Now the co-founder of
Reverse Resources
, a platform for 360-degree tracking and trading of textile waste, where she leads the Recycler network connecting textile waste streams with the best possible recycling solution. Nin's and Reverse Resources' goal is to break down market barriers, reduce costs, increase quality and availability of recycled materials for the textile industry.
Ϟ
Vahur Afanasjev
Vahur is a bestselling Estonian author. After being busy in several enterprises, including a music technology startup, and a Scandinavian clothes brand, he now runs his own publishing house. In his new novel "Õitsengu äärel", Vahur explores the idea of human progress and what really motivates people who make society and technology push forward. And a fun fact: Vahur is the only known Estonian writer who has been bitten by a crocodile!
And these were only a handful of our speakers and their talents. Check out all the other speakers of sTARTUp Day 2021
here
. See you in January!
sTARTUp Day is organized by the city of Tartu, University of Tartu, Tartu Science Park, Contriber, Tartu Biotechnology Park, Tartu Business Advisory Services, Tartu Centre for Creative Industries, .Ole Rohkem, and Swedbank.
Articles you might also like: