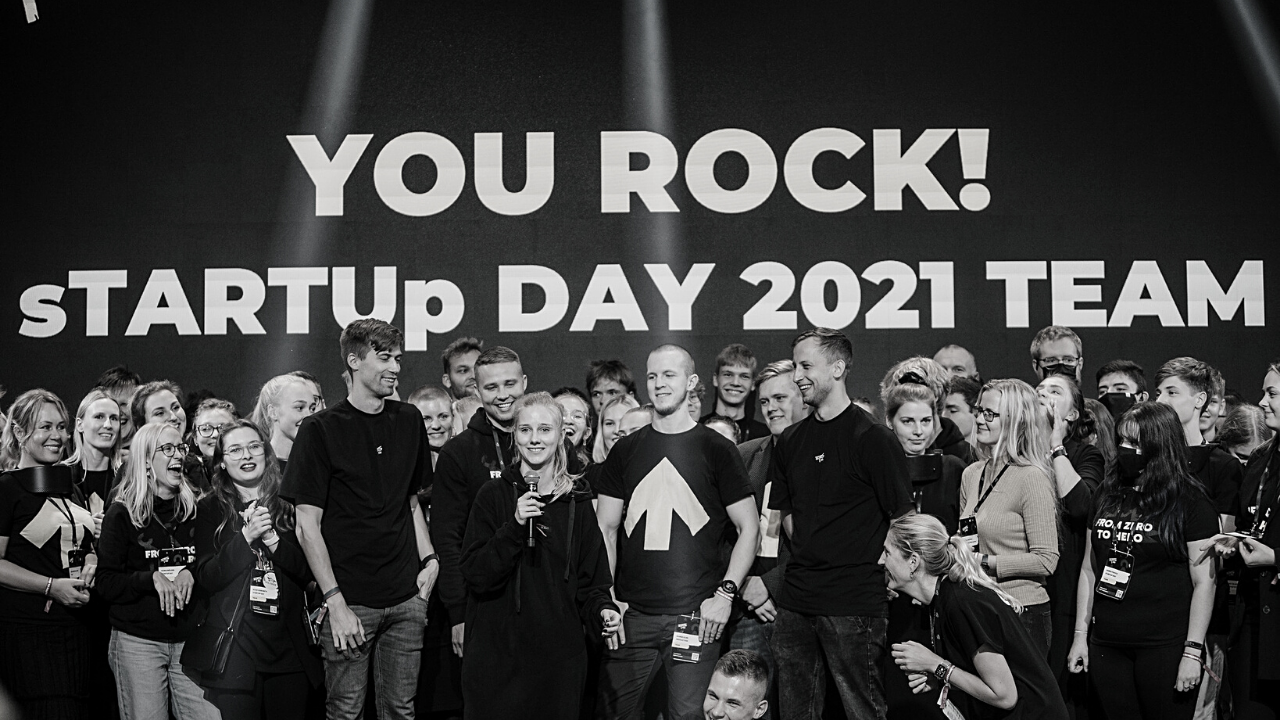 Overview and numbers of sTARTUp Day 2021 – a crazy journey that ended with a summerfest!
sTARTUp Day 2021 was definitely a one-of-a-kind event. After 18 months of organization and prepping, the startup community gathered in the Estonian National Museum to celebrate our 5th anniversary, crazy business ideas, and fantastic friends. It was great going back to our roots at ERM, where it all started in 2016.

Cover photo by Mana Kaasik.
The people of sTARTUp Day
There were about 3,000 of us – 2,500 people on-site filled up the Estonian National Museum and 500 attendees joined us online from all over the world. We had people from a record number of 67 countries! But this event couldn't happen without our amazing speakers with their boundless knowledge and incredible stories. We had 163 speakers, whom you can listen to, and watch again from
Elisa Stage
for three weeks! Just look up your ticket and use the number combination below the QR-code on your Fienta ticket. Find it on your email.
The startups of sTARTUp Day
What would be sTARTUp Day without startups? Just an ordinary day. On our mecca of entrepreneurship – demo area – we had 50 companies showcasing their cool services and products, offering ice tea, making coffee with hydrogen energy, and keeping the atmosphere elevated even when the weather was rainy and chilly.
During the three days, we had 91 pitches at the Pitching stage, 17 of them online. A record number of applicants – 330 startups from 51 countries – started competing at sTARTUp Pitching powered by EstBAN. VSight won the EstBAN-led syndicate of €250k and €75k investment from .Cocoon Ventures syndicate and Adact was awarded €75k investment from .Cocoon Ventures syndicate as well! The prize pool of sTARTUp Pitching powered by EstBAN was 600,000 euros – nothing to lose, so much to win!
sTARTUp Tartu area (author: Mikk Mihkel Vaabel)


The program of sTARTUp Day
The 160+ speakers shared their experience on 4 stages for a total of 41 hours and 45 minutes! And all the talks are available on Elisa Stage for the next three weeks for you to enjoy, reminisce and ensure that every bit of knowledge is put into practice.
We had almost 50 seminars so there was something for everybody, from smart sleeping to accessibility and deep-tech entrepreneurship! And of course, our side-events – 30+ events taking place all over Tartu. One of the most popular and legendary of them was sTARTUp Night, a Viking-themed afterparty with swords, fortune-teller and crazy karaoke where about 950 attendees enjoyed dancing, singing and networking.
sTARTUp Night (author: Rainer Oras)


The meetings of sTARTUp Day
After a long pause, 690 startup representatives had the chance to warm up the connections with 160 investors through Brella's AI-powered matchmaking. In total, 1,215 meetings were booked with a goal to have a chat, share experience, and put a start to countless unicorns!
With Speed Dating, we brought virtually together 530 people who took everything from the 4-minute meetings with their perfect match. During the three days, we had 17 sessions that lasted for 30–90 minutes. In total – 960 minutes of speed dating! We didn't manage to break the world record, as everybody was hungry for real-life conversations and coffee breaks without screens. But we discovered that recruiters are looking for talents and/or talents are looking for change – the most popular sessions by far were the recruitment ones!
So, that's it for this time. See you already in 5 months at sTARTUp Day 2022 on January 26–28. Get your tickets
now
to avoid paying more later!
Articles you might also like: