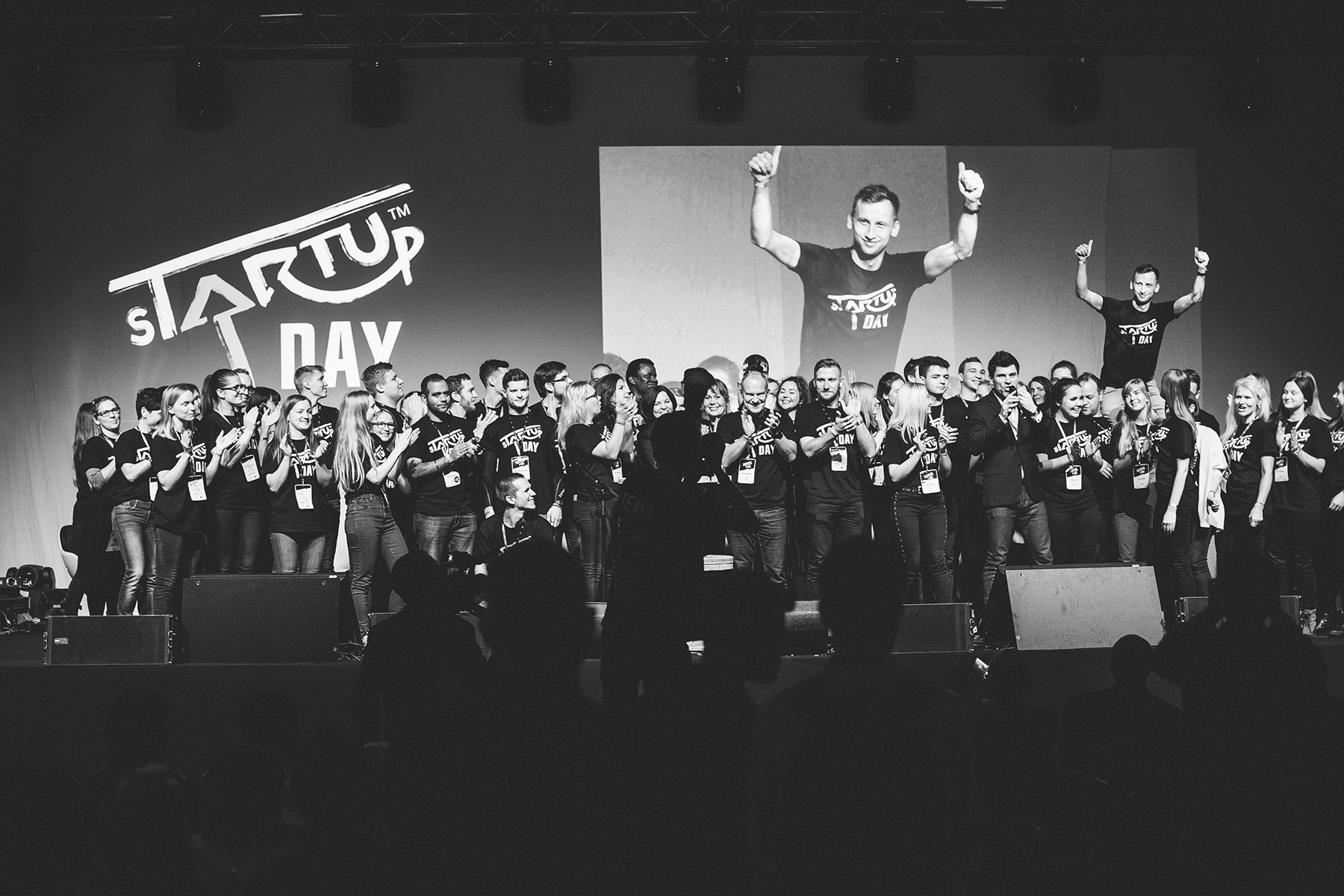 sTARTUp Day Gives a Possibility to Be Part of the International Festival Organizing Team
Volunteers have always been in the epicenter of a successful festival – they are responsible for the image of the festival but also creating the first impression for event's visitors. The same rule applies for business festival sTARTUp Day. The message from the festival's core organizing team is that volunteers are also team members and they are treated like ones.
The team of sTARTUp Day consists of people from very different backgrounds and field of expertise – it's organized in cooperation between Tartu City council, University of Tartu and local entrepreneurs community together with one hundred volunteers. There have always been people with many different backgrounds, the field of expertise and nationalities among our volunteers. It's a perfect opportunity to take your first steps as a professional, practice different tasks and meet with new people.
Volunteers make the festival happen
Lots of volunteers are attending sTARTUp Day from year to year. "It's amazing how much volunteers are giving so much from themselves to make this event happening. Those people are just amazing, and they're giving 100% of themselves to make sure it's a success," says Marili Vihmann, the volunteers' coordinator for the last two years. Volunteering doesn't ask for the age – we're waiting for volunteers from every age group. Marili says it's super cool that there are also volunteers from other backgrounds than students, for example, 40-year old enthusiasts, etc. So who is who in our fantastic team of volunteers and why are they doing what they're doing?
Life has taught Marili to be grateful and value the volunteers. "Volunteers are enabling us to make this event possible! Every link in this process is important – if one goes missing, then it's instantly so much harder to organize the event". Besides that, she emphasizes how strong can a community be and how powerful is their impact. "It's awesome how Tartu City Council, community and people around Tartu come together and join their forces to make this event possible." For her, sTARTUp Day is the coolest event because it carries the spirit, soul, and willingness of Tartu together with it. "We're doing it because we are super fans of Tartu and we love to live here!"
Every link in this process is important – if one goes missing, then it's instantly so much harder to organize the event.

Marili says that the volunteer experience is an excellent boost for your resume and it will connect you with new and exciting people. As sTARTUp Day is organized in co-operation of many different organizations, so that's why it's possible to meet with so many new and interesting people. "You can establish some great connections here because of the whole entrepreneur community is taking part in organizing the event. You can profit from this event in the future, and it offers a great value." For the future volunteers, Marili urges you to give everything that you have. There's no need to be afraid because the sTARTUp Day team is full of fun people, who are always willing to help you out when help is needed.


First-ever work experience
Jaak is a startup-world enthusiast, who did his internship and by that gained his first-ever work experience working as a volunteer at the sTARTUp Day marketing team. His goal was to assist the festival's Marketing Manager in the following areas: crafting marketing messages, creating posts for sTARTUp Day social media channels, designing and editing photos and with marketing for the festival's afterparty. "It gave me the opportunity to experience something new and be responsible for many different tasks, which I had never done before," Jaak said.

He explained that the practical experience received thanks to sTARTUp Day helped him to figure out his plans for the future and increased his social network because he met with many inspiring people. According to Jaak, the most enjoyable thing during the whole practice was the sTARTUp Day team itself: "People were very open, friendly and you could feel the whole team focusing on the goal to carry the event out successfully. Whenever I felt a certain task being a bit too hard, I could ask help from the team". He recommends to carry out mandatory university practice with sTARTUp Day and try to deal with as many events as possible – there's no need to worry even when a certain subject is not familiar to you. "sTARTUp Day is a perfect place where to learn. These experiences and acquired skills will help you in the future," he says.
sTARTUp Day 2017 marketing team
Viivika
also gained her first practical experience when working together with sTARTUp Day marketing team. She visited the very first sTARTUp Day festival as a visitor and that left her with an unforgettable impression. A year later she saw an email from her university email list and decided to grab the bull from the horns.
Viivika's
responsibilities were to interact and communicate with the Swedish start-up community, generate content for social media channels and create marketing messages.
During the day of the event, she also assisted with the work in the media room. "Since it was my first professional experience, then it gave me a great overview about how to market an event," said Viivika. She enjoyed the friendly team chemistry: "We always came forward for each other and helped to carry out different tasks between team members. At the same time, there was lots of humor and bonding between us". Viivika strongly recommends to participate sTARTUp Day as a volunteer: "You're never alone with your tasks – you can rely on your teammates. When you need any help, just let them know about it." Viivika values the received wisdom a lot: "It's a perfect way to get the first experience that you could later use to apply for full-time and paying job."

It's a perfect way to get the first experience that you could later use to apply for full-time paying job.
New skills and personal development
Sanita has been part of the sTARTUp Day marketing team since the beginning times of the festival. She's a great example of that we're also waiting for team members from other countries. Sanita ended up in Tartu thanks to Erasmus Exchange program, which offered her the possibility to carry out her practice at the University of Tartu IdeaLab.
Sanita is currently focusing on the Latvian market, where she assists in communication activities. She enjoys volunteering for sTARTUp Day: "I especially enjoy the festival days – when I feel that I have contributed even a little bit to make this event possible, then it gives me tons of positive emotions," Sanita tells. She added that the experience has also helped her to practice social skills: "Networking with different people is my main task which takes me out of my comfort zone and helps me to develop my personality as well." Sanita is recommending everybody to volunteer once in their lifetime: "Working as a volunteer is a great way how to develop your teamwork and communication skills. It can benefit you later in your professional, but also in personal life."

Great work will be noticed
Saskia was one of the main event day's volunteers last year. She assisted festival visitors at the registration table on the first festival day. She also helped to carry out the pre-events of the festival For example at the speakers' meet and greet event, where she was also able to speak with different and interesting people and listen to the speeches. The experience as a volunteer at sTARTUp Day left her with the indelible impression: "It taught me about how united and great startup community of Tartu is and what kind of huge work they're carrying out every year." Saskia found her way to sTARTUp Day team also this year. "Since I was able to help sTARTUp Day team during last year, then I felt the urgent need to help them again this year. Since I stood out among team members, then I was invited back again this year." reminds Saskia.
According to her, volunteering at the sTARTUp Day and being part of the team has been a significant impact for her: "Hard-working volunteers are always noticed. The Estonian start-up community is holding close together, so even a few good words about you by the organizers can land you on your next job."

Happy team = happy visitors. Saskia is in the middle.
If you feel like you'd also like to be part of the sTARTUp Day organizing team, let us know here. Deadline is this Thursday, 8th November.
Articles you might also like: