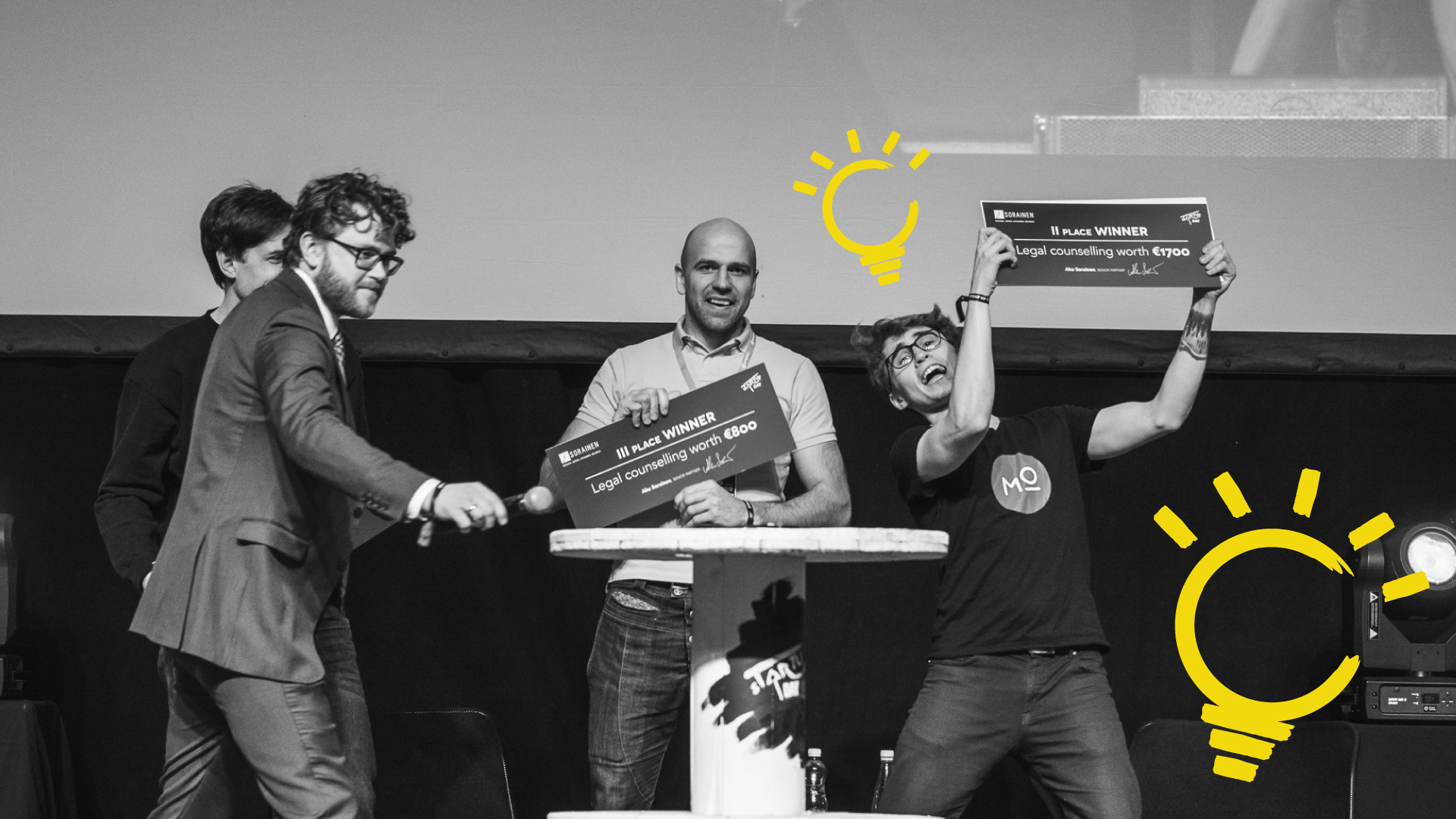 TOP 32 teams of sTARTUp Pitching 2020
sTARTUp Pitching is the official pitching competition of sTARTUp Day. In 2020, 248 teams from 30 different countries applied and 32 were selected for the preliminary rounds.

Although the board of judges was planning to select TOP 30 out of 248 teams that applied, we decided to go with 32 to give more teams the opportunity. Here are the names of the teams who will pitch on the 30th of January. 7 of them will get a chance to present their idea on the main stage on Friday evening at the finals.
Ϟ
autom8 (Estonia)
Autom8 provides an automated service for securing web, mobile and third-party applications enabled by machine learning.

We leverage open banking and transactional analysis in making consumer financing more seamless and transparent.

SPEAKLY combines scientific approaches to help every language learner to solid speaking skills in only 2 to 4 months.


Adovinci is a self-service outdoor advertising platform allowing anyone anywhere to create campaigns without middlemen.


ATOM Mobility helps entrepreneurs to launch their own e-vehicle sharing platform in 20 days.


Digital platform for companies and their employees who value their health.


Sanoste is revolutionizing physiotherapy with AI and gamification to motivate patients to do home rehabilitation.
Edumus helps working specialists to go to school and teach one grade, one subject at a time.


Ϟ

iVCV (Estonia)
iVCV is an innovative AI-based HR tool that provides a detailed CV and personality analysis based on the short video.


Vihjemaakler is a real estate lead generation platform that allows brokers to bid on the incoming leads.

Entify is a one-click legal entity verification solution that helps businesses combat financial fraud.


Bioboxes that turn food waste to hummus at home.


Promoty is an influencer marketing tool that helps brands to find content creators who truly love their products.


Drivest is a keyless car rental platform that helps people to rent a car nearby with less than a minute.


Ϟ
Qpick (Lithuania)
Qpick is a SaaS for brick and mortar retailers that optimizes customer engagement and advertising.


Ϟ
CalenDays (Latvia)
CalenDays — your key to achieving more while spending less time. Automate your workflow with a personal AI assistant.


DriveX automates vehicle inspection utilizing cameras with AI and connected car data.


Turning households into virtual power plants.

Ϟ

Vigo (Latvia)
Vigo is a digital therapy to help stroke patients recover faster, available at home,24/7, at a fraction of the current cost.

Ϟ
CASERS (Ukraine)
CASERS helps companies conduct online-hackathons and attract young talents.

Ϟ
Woodspot (Estonia)
Woodspot is developing a web platform for timber companies to know all regional timber purchasing prices all over the EU.


Ϟ
Jeff App (Latvia)
Jeff is a loan broker, utilizing alternative data to boost financial inclusion.


Ϟ
Amio (Lithuania)
Amio helps enterprises use messengers to build self-service and automation in customer support.

Ϟ
PayQin (United Kingdom)
PayPal for the unbanked.

Blockchain Copyright Office for Images - tools needed to sign, register and monitor images with AI and Blockchain.


Ϟ
ISACHAMP (Estonia)
For the unserved markets, we crowdfund student loans where students pay a percentage of their salary instead of interest.


Solfeg.io simplifies music teaching in schools and inspires practicing at home with the use of top hit songs and AI chatbots


Autonomous on-site street cleaning robots for seasonal weather that work 24/7.


Tradomatic is a B2B marketplace that helps farmers and traders do faster and better deals online just in few clicks.


Aligner enables to translate and update content across 140+ languages 7x faster than any alternative on the market.


We developed a StarTrek like medical device that provides a solution to chronic wounds and multi-resistant bacteria.


Remato is a Construction SaaS for the crew, asset and project management. We help to save time, money and nerves.
The winners will be selected in the grand final on Friday, 31st January at 4.45 PM at the Starlight Stage. In addition to visibility, the best teams will be awarded several awards:
Ϟ
€10,000 equity-free cash from Swedbank Eestis
Ϟ
EstBAN-led syndicate with up to €250,000 to invest
Ϟ
€5,000 equity-free cash from RIA.com
Ϟ

Tickets to TechCrunch Disrupt in San Francisco
Ϟ
Tickets to Summit Summit in Iceland from Tera Ventures
Ϟ

Legal counseling worth 5000€ by Sorainen
Ϟ
Tickets to NOAH Berlin Conference
Ϟ
$10,000 AWS service credits from Cloudvisor
Articles you might also like: