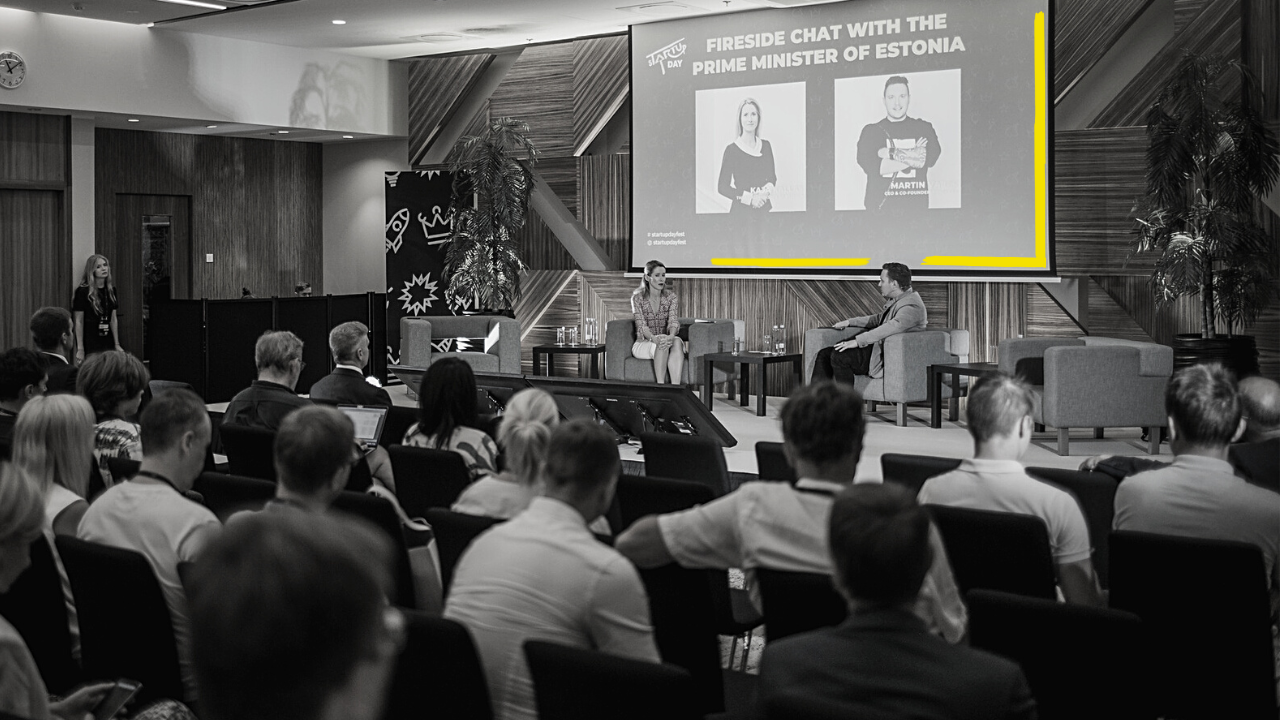 Fast-track your way to corporate innovation at this year's Executive Day
For many companies, sTARTUp Day is the place to tap into innovation and meet the up-and-coming startups, planting seeds for future cooperation. So it's only appropriate that this year's Executive Day, our special program for the Executive Ticket holders, focuses on corporate innovation and cooperation with startups.
The Executive Day, powered by Net Group, is the perfect opportunity to meet peers, discuss common challenges and get a boost of inspiration before the intense two main festival days. The event takes place on 15 March at 10:00–14:00 in Kammivabrik, at five minutes drive from the city center. (The same venue will also host the VIP Reception on the same evening).
At the Executive Day, we'll dive deep into successful cooperation with startups with experienced business leaders. The speakers include Siim Lepisk from Net Group, Paulius Kozlovas from Ignitis Group, Erik Juhani Kolehmainen from Metsä Spring and moderator Piret Potisepp from the Estonian Chamber of Commerce and Industry. Tarun Sharma from Nokia Ventures will share insights into rethinking the way we do business in a fireside chat with moderator Anastasiia Shevchenko.
Ahead of their fireside chat, Anastasiia posed Tarun a few questions about his corporate journey and why attending in-person business conferences still matters in our digital age.
Tarun, we're so thrilled to have you speak at the Executive Day. You are currently COO of Nokia Ventures and have quite an impressive background: Product & Senior Software Engineer at IBM, Business Development at Microsoft, Sr. Director at Tieto, and different roles at Nokia. Was it all a very conscious journey for you or did one thing lead to another?
It's a combination. I believe that direction setting should be a deliberate exercise, but it's also important to leave room for serendipity along the way.
Let me give you an example – half my professional life I have been a techie, and while I enjoyed every bit of making machines do what I wanted them to do, I was always curious about business side of things. That's when I decided to do MBA in Finance & Strategy and that decision was a conscious move to take my career in a certain direction.
Then as I started my new venturing, corporate innovation & entrepreneurship journey, I had some very specific opportunities in mind but also one thing led to another, and I got new opportunities along the way.
We keep hearing that attracting money for VC-backed startups is not as easy as it used to be – even compared to the year 2020. In your opinion, was it really too easy?
It's true that there has been a recent shift in the venture capital (VC) landscape and attracting funding for startups has become more challenging than it was in the past. There was a lot of money in the system, driven by low interest rates, lack of investment opportunities and economic growth prospects etc., and as a result of that lot of companies raised a ton of money. Many of those companies will find it difficult to raise this year – especially if the path to profitability is unclear and their burn rate is high, given the overall macroeconomic condition we are in currently.
What do you think about conferences like sTARTUp Day? Do you still find them useful? I mean, you have a pretty big network of your own.
I find conferences such as sTARTUp Day really important, as they bring key participants of venture ecosystem together under one roof. You have founders, investors, entrepreneurs/intrapreneurs, and leaders from the industry getting together to make an impact, learn from each other, network, etc. Even though digital technologies have evolved significantly to allow remote meetings, most of the people you speak to crave & miss that human connection, and we all experienced it first hand during the pandemic.
Join us for a morning of inspiring discussions and networking on 15 March! Read more about the Executive Day and secure your Executive Ticket here.
Articles you might also like: