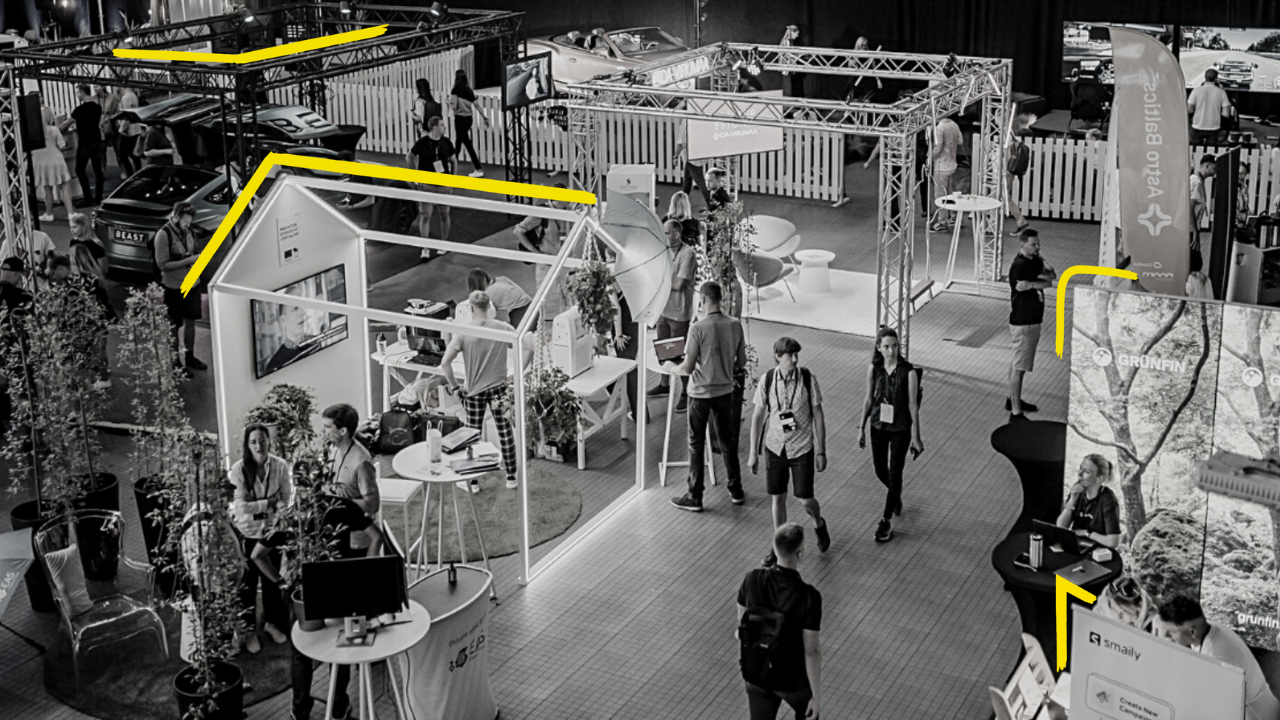 How to use gamification in your demo area booth?
How to stand out and get more leads at a business festival?
Adact
platform allows you to create unique gamified experiences to engage with your booth visitors. Here are five great examples from sTARTUp Day 2022.
Adact allows you to create different kinds of engaging and gamified campaigns to interact with people who visit your demo booth. You can generate leads, build brand awareness, help visitors choose between services or ask for feedback – you choose.
There are over 35 different engagements to select from, all of which can be created and designed without any coding. The platform also takes care of lead collection and analytics.

Here are five creative examples of how companies used gamification to engage with their visitors at the sTARTUp Day 2022 festival.
The article first appeared on Adact blog.

Checkout.com – Financial industry
Checkout.com was looking for a fun and interactive way to engage with sTARTUp Day attendees. They decided to use Wordle for its thought-provoking and challenging nature.
Deciding on the visitors' feedback, people loved the game! Checkout themself wasn't expecting the game to be so popular.
In addition to inviting people to play the game, they used printed QR codes to get even more people to play the game.
Astro Baltics – IT industry
Astro Baltics were looking for something fun and eye-catching in their booth to collect emails for further hiring purposes and engage with event attendees.


They chose a game called hoops, which was a big hit among the attendees! Players said that the game was addicting, a fun element filled with important information and intense socializing, and a cool place to come back to from time to time.


The team had a brilliant idea how to maximize the appeal of this interactive game. They turned the big (touch)screen vertically and added a frame to the screen that resembled a smartphone. That way, it looked like you were using a giant mobile app. It looked awesome, and it definitely got people to check it out more than it would have with just a regular screen. And, of course, the prizes were shown on the front page, so people just had to come and try.


FoundME – Startup news portal
FoundME built its booth a little differently. They built two separate games for two different days. Both games were very popular! We guess this is the magic of their Wheel of Fortune and Jeopardy!


The feedback from the players was very positive. Players were coming to their booth just because of their game and books, which they could win if they spun the wheel.


What was special about FoundME is that they didn't have their salespeople present at all times. Even despite that, they managed to collect 2-3x leads than usual.


Mooncascade – IT industry
Mooncascade was also looking for a fun way to engage with event attendees. To achieve their goal, they went for a fun game called Flappy Bird.


In addition to amazing prizes, Mooncascade showed the whole gameplay on one big screen. This attracted many people walking past to interact with their team. What a fun way to start a conversation!


Players and the Mooncascade team said that the game was very popular. Many people played it several times and for a long period of time just to improve their scores. People were checking in to see whether someone has topped their score and also brought their friends to play the game.


Grünfin – Financial industry
Grünfin had quite a small exhibition booth. This is where the benefit of (digital) games comes in very handy.
They created a simple trivia to educate people about investing in green-thinking companies. The game was very engaging and made people really think about their investment choices. Some players were even shocked because of some answers.
Grünfin used this trivia as a tool to make the whole experience not so intrusive. Visitors could answer questions on the laptop which allowed their team members to carry on a conversation based on their answers.
Read more about the possibilities of gamification marketing on Adact's blog.

Registration for sTARTUp Day 2023 demo area is now open.
Articles you might also like: