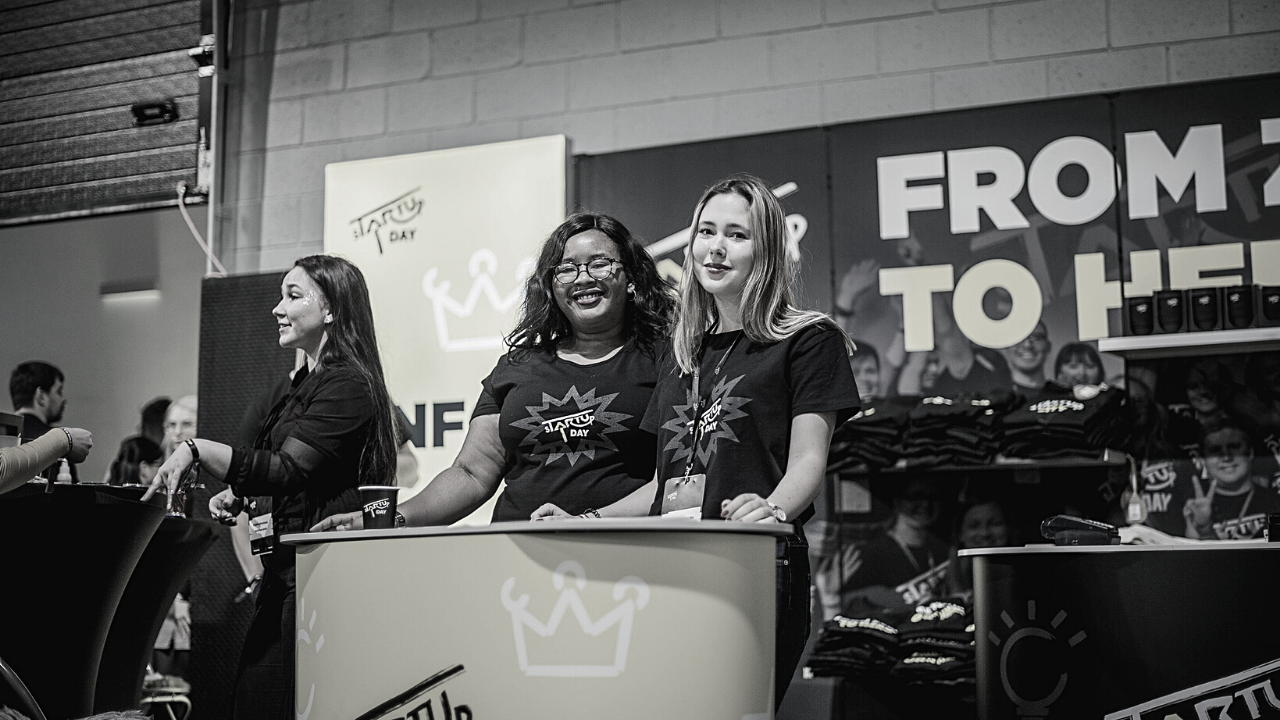 sTARTUp Day 2021 survival guide: how to have the time of your life
To become a true hero and take everything there is to take at sTARTUp Day, come prepared. We believe in the phrase "Work hard, play hard", and as you are our guests, we've done the working part so you can play even harder! Read through this list, and you'll be ready to roll.

1. Pick up your badge early
Collect your badge early on to get into the festival area quickly. Only those who can prove their infection safety will be able to pick up the badge early. Collect your badge this week in Tallinn or Tartu. For the exact locations and dates, click
here
.
NB! Keep your badge and wristband with you at all times! It makes ensuring safety more efficient.
2. Be prepared to show proof of infection safety
Our number one priority is everyone's health and safety. As per governmental regulations, we'll be checking the infection safety of every attendee to make sure all attendees have been fully vaccinated, received a negative test result, or recovered from COVID-19 within 6 months. This applies to the main festival program, all side events, and youth under the age of 18.
If you need to take a rapid test at the venue, you can pre-purchase the service
here
. The test costs 15€ and will take place at the Estonian National Museum on August 26 and 27 from 8:00–17:00. You don't have to take a test if you prove your infection safety. However, we do recommend it for everyone's peace of mind. Find more information about COVID-19
here
.
3. Create a game plan
Check out the main program
here
or set up your Brella account (invitation on your email) right away to start creating your unique program by bookmarking your favorite sessions under the "schedule" tab. Note that this year, there isn't pre-registration for seminars, so be ready early at the right seminar room.
PS. Keep in mind that it is recommended to use Brella through a browser for the best virtual experience.
4. Don't forget the side events
We have 30+ side events planned all around Tartu. From workshops to tours and parties, whatever you're interested in, we've got you covered. Just check out the
side events
and be sure to register for the ones you don't want to miss!
5. World's Largest Virtual Business Speed Dating
Yes, you read correctly! We are attempting to break a world record by bringing you the
World's Largest Virtual Business Speed Dating
. All sTARTUp Day and Shift ticket holders will receive links to take part shortly before the event. Then you can add all the sessions you want to participate in to your calendar. Let's break a world record!
6. Find relevant contacts, safely
At
Matchmaking powered by Veriff
you can schedule 20-minute meetings with other participants. To make meeting the right contacts from a sea of people easier, we use Brella's AI-powered matchmaking. Connect with startups, investors, executives, speakers, and visitors who match your profile. And to make face-to-face meetings as safe as possible, grab a Respiray wearable air purifier to eliminate over 99% of viruses and bacteria with UV technology.
7. Getting to the venue
To celebrate our 5th anniversary, we're going back to our roots – the Estonian National Museum, where it all began in 2016. Check out
the venue map
. The festival venue is approximately 2.6 kilometers from the city center, which is quite easy to reach on foot. But if you're far away or the rain just won't stop pouring, use the bus – it is free during the event week if you have a sTARTUp Day wristband! Bus line 7 will take you to the festival venue (stop ERM) from the city center (stop Raeplats or Soola I). Line number 8 also stops about 750m away (stop Killustiku).
And if buses aren't your cup of tea, there are also Teslas, taxis, carpool with GRETA, city bikes, and scooters. There are also plenty of parking spots near the venue. Find more information and a huuuge discount code for the city bikes
here
.
8. Festival food
To keep yourself going during the day, sip some great coffee from the cafe area and get some lunch from the food court. We have pizza, burgers, salads, fries, pies, sweets – you name it! And would it be a business FESTIVAL without mojitos and craft beer?! We're also super excited that this year, you'll see only reusable dishes at the venue! After finishing your drink or food, just return the dishes to one of Bringpack's collection stations. We highly recommend bringing your own water bottle and/or coffee cup.
9. Joining us online
If you can't join us in person, don't worry! You'll be able to watch all four stages live, network, matchmake, take part in side-events, be part of a world record attempt, browse the virtual demo area and so much more. Check out how to conference hack online
here
.
You can join us through Brella or Elisa Stage. For those of you who only want to watch the stage program, we recommend Elisa Stage, the links will be sent to you shortly before the event or you can save it already from
here
. For all the interactive additions and networking, head to Brella!
PS. The entire program is available on Elisa Stage for three weeks after the event! In addition, there are exclusive interviews with the speakers of sTARTUp Day 2021 for you to enjoy.
10. Pets at the venue
Unfortunately, pets are not allowed at the venue. It is THE Estonian National Museum, so we hope you understand. However, this year, we have outdoor areas where all the precious animals are welcome!
11. #startupdayfest
Don't forget to use our official hashtag #startupdayfest in your Instagram, Twitter, and Facebook posts. Tag our account @startupdayfest, so we can also see your cool posts and thoughts. If you follow our social media accounts, you'll be the first one to get updates on our festival.
We wish you an awesome once-in-a-lifetime sTARTUp Day summerfest experience! Feel free to get in touch with us via social media if you have any questions or troubles!
Articles you might also like: