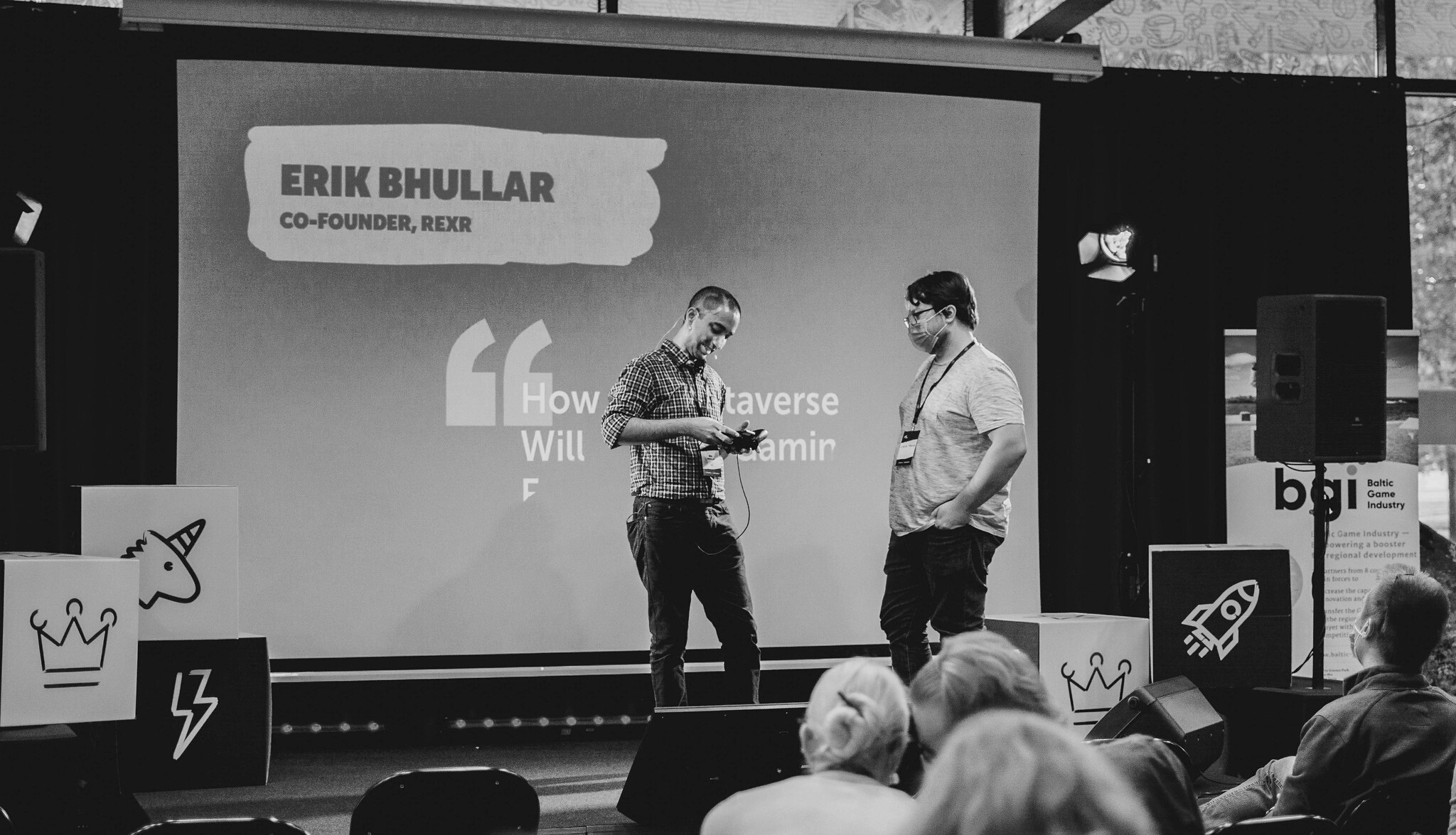 sTARTUp Gaming 2020 – Gaming as an Engaging Form of Art
On September 23, about 100 gaming enthusiasts and professionals gathered at SPARK Demo for sTARTUp Gaming 2020. In a cozy environment, developers and professional gamers exchanged thoughts on the latest developments and the biggest challenges of the gaming industry.

We talked about marketing, investors, asking for feedback as well as Estonia being the flagship of game development. The cherry on top was the launch of the gaming and film industry incubation program presented by Tartu Science Park and Tartu Centre for Creative Industries.
One of the speakers, Erik Bhullar, did a live poll among the attendees, which revealed that most of the participants were PC Master Race gamers with mobile gamers in second place. About 40% were PC developers and 35% non-developers. We also found out the reasons they got into gaming! Some play for entertainment and stress relief, while some are in it for money and addiction.
The first part of the evening focused on the creative side of the gaming industry – how to design games, whether it's possible to develop games alone and how to apply gamification to your marketing strategy. In the second part, education, entrepreneurship, and virtual reality were in the spotlight. As there were eight speakers spreading their wisdom and sharing their experience, we picked out the best of the best advice of sTARTUp Gaming 2020.
Designing games for your target group
Founder Leene Künnap & Tech Wiz Ott Madis Ozolit from Placeholder Gameworks
When designing your game, think about your target audience. Every time you're designing a feature, think about how your target audience will react or what they are supposed to feel. Test the feature using a prototype, then moderate and improve!

Create a strong and distinctive brand – have eye-catching colors and visuals and use them in EVERYTHING you do.

Learn how to talk about your game and then create a tight community by spreading the word among your friends and family, in social media and at events.
Can you build a market-ready game all by yourself?
Michal Roch, CEO of Honestly Games
Working alone means you don't have to sacrifice on your vision. In a team, everyone wants to be a part of the project and execute their vision.

Despite being the do-it-all superhero, you still need to find people who give you honest feedback. Otherwise, you'll end up being the only person who likes the game.

Working alone means you'll become independent. As you grow as a developer and get more confident, you'll be able to choose the people you want to work with in the future because you can do it without them.
Gamification in marketing
Kalev Kärpuk, CEO & founder of Adact.me
Figure out what are the psychological impacts of playing games and what makes it addictive, then use it in other contexts.

Pseudoprogress – giving the client the impression that some of the work has already been done. For example, 300 participants had to collect stamps for car washing. Half of the participants were given a blank stamp card with 8 empty slots. The other half was given a stamp card with 10 slots, but 2 of them were already filled. In both scenarios, participants had to collect eight stamps, but those who had 2 slots filled, completed the task much faster.

By making the activities attractive and fun, it will become a game, and users will be much more open to challenges.


The educational impact of game development
Jaanus Jaggo, Computer Graphics teacher at the University of Tartu
The Delta building of the University of Tartu offers endless opportunities for developing games, from a virtual reality studio to professional mentors.

The computer graphics course at the University of Tartu creates good prerequisites for starting game development.


Starting a company from scratch
Juha Huhtakallio, General Manager at Playstack
When starting a business, think about your ultimate goal - do you only want to make money, or is it more important to offer people something enjoyable and useful?

When building a team, follow your inner gut. Many investors invest in the team, so the unity and team spirit are crucial.

At some point, you will be losing people. If this happens, ask for feedback to understand their decision.
Seeing through smoke and mirrors
Rein Zobel, the Virtual Reality Creative Director at Maru VR Productions
Virtual reality solutions are not made only for games. VR helps to visualize the product – it can be used in marketing, sales and even in employee training.

Location-based virtual reality has begun to gain popularity - it is used in amusement parks, game centers and pop-up events.

The Lion King remake was shot almost entirely in virtual reality. VR was used as a collaboration and communication tool – everyone worked together in a virtual world.
The metaverse future of gaming
Erik Bhullar, co-founder of Realified
Gaming is a form of art that allows you to be part of the art rather than a passive observer.

There's now technology that can turn any game into a VR game at basically no cost!

Estonia has the prerequisites to be the flagship of game development in the future, as Estonians have a different idea of the future of gaming.

The event was organized by sTARTUp Day and Tartu Science Park. The partners of sTARTUp Gaming are the City of Tartu, the University of Tartu Institute of Computer Science, the Baltic Game Industry, Interreg and ERDF.
sTARTUp Gaming is the official side-event of sTARTUp Day 2021. Find information about
Articles you might also like: