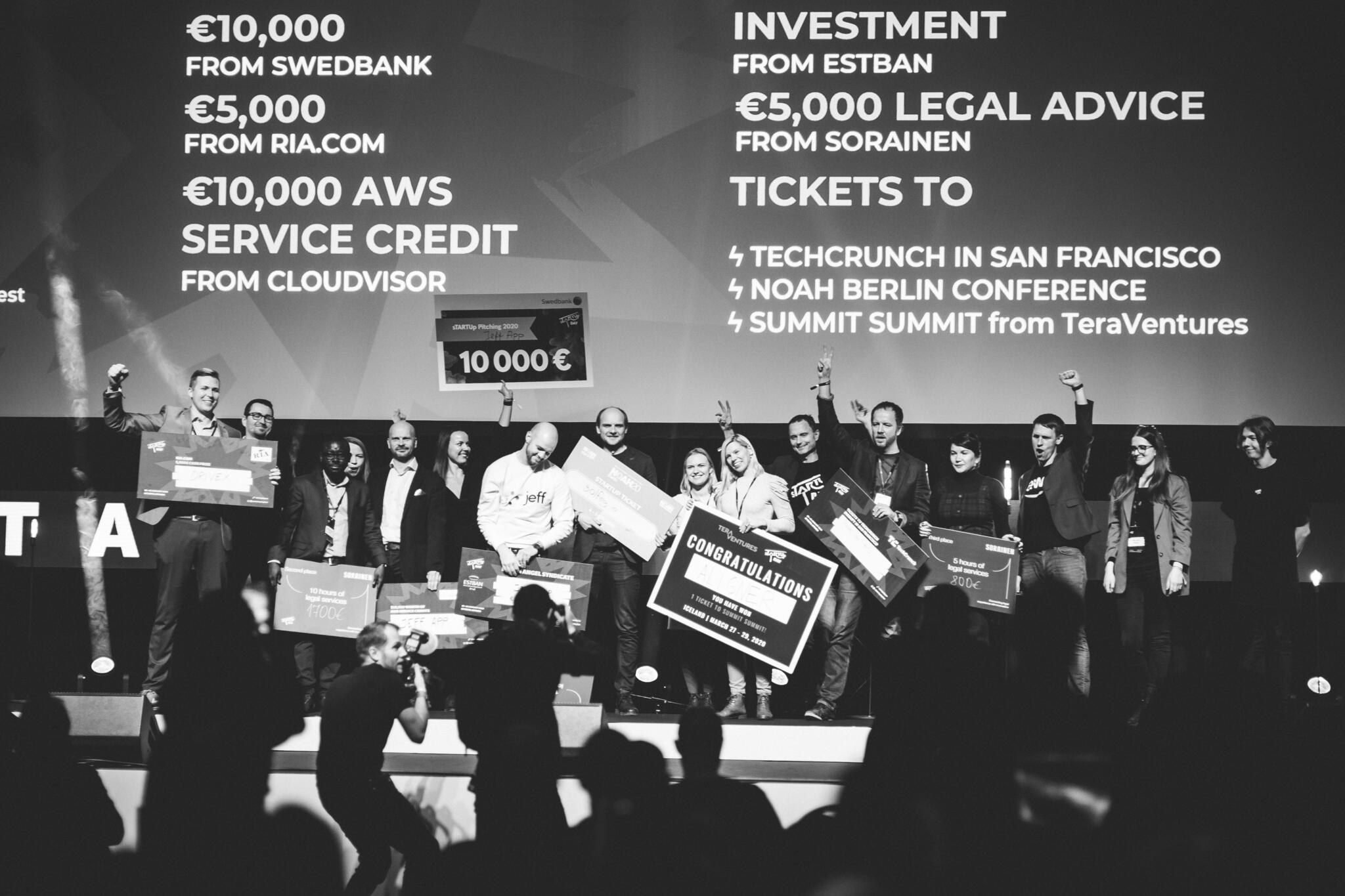 sTARTUp Pitching Powered by EstBAN – TOP 40 announced!
We are super happy to announce the TOP 40 startups of sTARTUp Pitching Powered by EstBAN! But before the big reveal – some numbers.

This year, we had a record number of applications – 330 startups from 51 countries! So the competition was tough, which didn't make the jury's life any easier. "When the applications closed, we were amazed by the great interest and happy to see so many new and to-be-discovered startups," said
Hanna Liis Remmelg
, the Head of sTARTUp Pitching. "Of course, this year's prize pool is something to strive for, and we can't wait to hear all the amazing pitches!"
EstBAN
is putting together two syndicates to invest up to €200k for two teams. Last year, the award went to Jeff App who have skyrocketed since January. And
.Cocoon Ventures
is leading a syndicate investing €100–150k to one scale-up they see would most benefit from the. Cocoon founders self-development program. The winning team founder(s) agree to join the .Cocoon program, which costs can be covered from the investment.
In addition, our co-organizers
Swedbank
will give €10k equity-free cash to one of the teams to fund their growth. No strings attached. Award-winning international law firm
Sorainen
will give 30 hours of valuable legal advice worth €5k.
Cloudvisor
has put out $10k AWS service credits, and
Founderly's
prize package includes 6 months of free Founderly membership and over $30k worth of credits from Stripe and Freshworks.
Elisa
is giving away two hours of valuable mentoring for their chosen winner.
Tartu Science Park
is giving three months hot desk membership for three people in their newly opened S2B Work Space in the Delta Business Building.
And now – the TOP 40!
Adact enables agencies to create online interactive marketing campaigns without writing a single line of code.

AgroPlatforma is B2B marketplace to connect grain growers and buyers to close deals on-line in Baltic's and Europe.

Altero.lv is helping people to save their money and time by choosing the best financial product offer.

Amio helps enterprises to introduce automation into customer support in a frictionless time.

Are23 (ex. Automatic coating application) is augmenting the performance of the construction industry with Artificial Intelligence and robotics.

BeeSage devices and software helps beekeepers maximise honey yield by eliminating risks and enabling informed decisions.

binare.io in an automated IoT Firmware Analysis and Monitoring platform, Security Services and Expertise.

Corebook.io empowers brand studios to do better branding projects and impress clients with interactive, online brand guides.

Coursy.io is an all-in-one corporate e-learning platform for effective skills development.

Emplastrum is developing devices for better psoriasis treatment.

Evenstad is automating chatbot creation to help customer-facing teams keep customers happy.

FinnAdvance is growing human diseases in miniature chips for accelerating drug discovery.

Foodoo.ai is an AI-based solution that knows everything about your goods and reduce the volume of food waste.

Iffent is an automated team formation platform where algorithm puts together a well-matched project team with seconds.

iSpeak App is a Tik Tok for language learning, Learn English with short interactive videos.

Kedeon is a verifiable real-time monitoring with easy to implement, purpose-built IoT solutions with no upfront cost.

LEGID App is an AI-powered marketplace for on-demand, small in-app consultations from top legal experts across the world.

LendSecured is developing a Crowdlending platform to help EU farmers get funded and investors to earn great returns.

Ligna Energy provides forest based large scale energy storage for a fossile free planet - scalable and safe.

litegrav.AI develops microgravity simulators to bridge the gap between life science research and the new space economy.

Machineric is developing software for heavy machinery and truck traders to help them manage and sell their machines.

Manna Insect provides an on-site modular solution to upcycle food waste to insects and a market place to sell them as feed.

Millo has invented Magnetic Air Drive – a contactless transfer of powerful torque for a new generation kitchen.

Nanowind converts plastic waste into air cleaning coatings.

Pitchy is helping startups and corporates create winning pitches in a fraction of the usual time, cost and hassle.

ProProtein is developing technology to produce dairy proteins with yeast, without the need for cattle farming.

Quppy is a digital payment solution consolidating your bank cards and accounts.

RAIKU develops compostable, beautiful and affordable alternative to plastic bubble wrap.

Resistomap offers a laboratory service to help researchers monitoring antibiotic resistance from environmental samples.

Rexplorer is a renewable energy development and maintenance platform for local communities, citizens, and businesses.

Ringy is a marketplace of refurbished electronics.

Sharewell is a customer experience testing platform, which helps to get feedback to validate your product in short time.

Talbit builds successful SMEs through inclusive, sustainable, and agile skill and competencies (talent) development.

Taut is a classroom learning and collaboration app.

TTM – Total Traffic Management has created Intelligent Speed Assistance (ISA) system for commercial fleet owners to deal with speeding problems.
UpSteam is a platform digitizing mobile car care services, so it could be done on a scale.

Votemo is interaction tool for virtual events, making events engaging, generating data insights and increasing their ROI.

VSight is an Industrial Augmented Reality Platform enabling enterprises to make workforce more connected.

WebLock is a cloud native access management start up focusing on B2B residential real estate.

WiseDrive is a marketplace that seamlessly connects car owners with trustworthy workshops.

The pre-finals will take place from August 9 to August 12 at 3 PM and will be live streamed on
our Facebook page
.
Congrats to all, and see you in the pre-finals and at sTARTUp Day!
Articles you might also like: