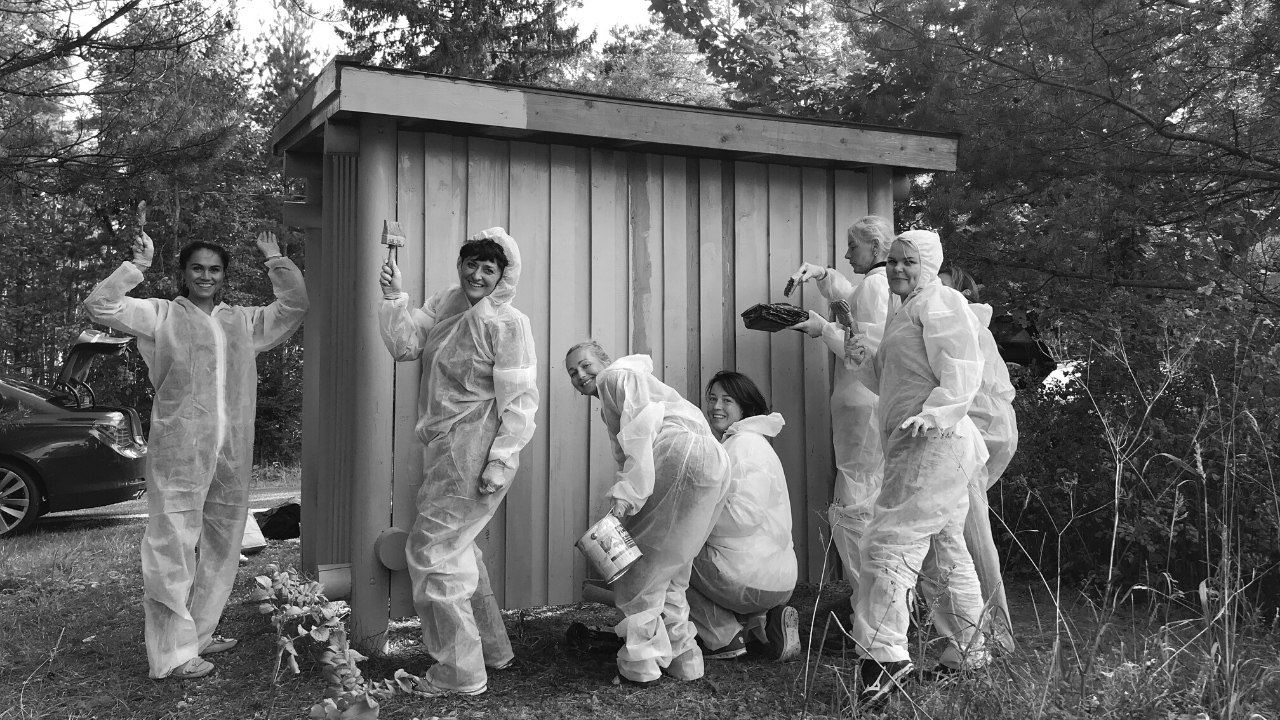 Time donation as an effective team building method
You know that feeling when you come back from a team event and feel really lucky because it was just so nice to spend time together. Now multiply that good feeling by two – because if the joint activity makes the world a better place as well, that's exactly what will happen.
Swedbank
,
Pipedrive
,
Playtech
, and
Port of Tallinn
told us about their experiences – why encouraging time donation is important for them, and how it helps to elevate team unity.
This article was written by Merje Klopets, the Societal Engagement Manager of Swedbank – one of our co-organizers!


Encouraging creativity
Let's say that the time has come when companies can organize summer days again. Let's also say that your company has many talented and creative people. Why not use their creativity and knowledge to do some charity work instead of their everyday tasks? For example, that's what Pipedrive did on their summer days. "Our employees built various climbing trees for the cats of the Pärnu shelter – they got the chance to invent them from scratch, and the results were super awesome! Then they let their creativity fly by decorating them," said Heleri Hanko, the event specialist at Pipedrive.
Author: Pipedrive


"When I started organizing events at Pipedrive, I had the idea to add volunteer programs to the summer day plan. Many team members really liked this idea, and it has become an important part of our team events. There are so many of us together at that moment – it would be foolish not to do something big together!"
According to a survey on participation in volunteering (Baltic Research Institute, 2018), one in two Estonians had participated in volunteering during the past year, and one in ten did so through an employer. The
"Let's Donate Time" (Annetame Aega)
initiative, launched five years ago by Swedbank and the Estonian Employers' Confederation, is for companies that see value in promoting volunteering and offer their employees opportunities to contribute to the community.
One of the organizations that joined the initiative at the very beginning is Port of Tallinn. "Volunteering is a good deed, the joy of which multiplies if you do it with colleagues – by contributing together, it is also easier to achieve the goal," explained
Triin Rum
, the Marketing Specialist of the Port of Tallinn.
Team synergy will skyrocket
If donating time would be an ingredient in a recipe of feeling good, it would be yeast. An ingredient that lifts the whole thing to the next level. According to
Ülle Matt
, the Head of Human Resources at Swedbank, time donation is a very good facilitator of team spirit. "A common goal ignites, and if that goal is related to helping and benefiting someone, it gives a particularly positive charge. Doing good deeds as a team helps to get to know your colleagues from a completely different perspective. We also learn how to support each other with advice and strength in practical activities," said Ülle Matt.
No team training unites people better than doing good deeds together!
In 2015, 1,100 employees took part in the first grand donation project of Swedbank. The number of participants has remained stable since then. Even last summer, when the projects started later due to restrictions, 970 swedbankers took on 106 different projects. Time is donated in teams, and each team chooses a challenge – from cleaning a health trail to making beads of courage for children with cancer. Every year, swedbankers have two paid days off from everyday work to volunteer.
Heleri Hanko from Pipedrive similarly points out the effect of time giving on team synergy. "Time donation definitely increases the team unity, and later on, you can feel proud of the projects done together. Especially when they become traditions, and people get excited early on," she noted.
Author: Pipedrive


Kärt Kaasik
, the Brand and Communications Manager at Playtech, says that both in the present and in the future when employees are not in the office daily, it is necessary to organize more events than before to maintain team unity. "Let's Donate Time initiative is a good opportunity for this: the team can spend time together, but at the same time do not have to perform work-related tasks, but can contribute to a noble goal," she said.
Due to the restrictions related to the virus, they failed to implement some of the projects planned last year, but now looking into the autumn, they are more optimistic. Among other things, Playtech has set up an internal charity committee that is also actively involved in donation projects.
Contributing to sustainable development
Triin Rum from the Port of Tallinn points out that you can also contribute to sustainable living by volunteering – whether contributing to the protection of the natural environment or the development of the local community. Their last major donation project was at the end of last summer when the team picked up almost 10,000 cigarette butts from the Old City Harbour area, preventing them from ending up in the Baltic Sea.
"Volunteering expands the world view, draws attention to sustainability issues and benevolence," says Ülle Matt from Swedbank. "These skills benefit business development. Empathy supports the development of an organizational culture that is more employee-friendly, which in turn influences a better understanding of customer needs." Ülle Matt confirms that there is something to learn from each time donation project.
Author: Swedbank


"During time donation, I have learned what the people connected to these projects really need, what their worries and joys are, and how I can be useful outside a specific project." With some charity initiatives, cooperation has lasted longer. For example, swedbankers have shared their professional advice on using communication channels more effectively or what to consider when creating a strategy. One of the most memorable time-giving experiences for swedbankers was in 2018 when an oak grove with more than 2,000 oaks was planted in Kurtna, Ida-Virumaa, to celebrate the 100th birthday of the Republic of Estonia.
"I think that awareness of the environment and various problems in society has increased. Tolerance and general understanding have also increased," believes Heleri Hanko from Pipedrive.
People are more empathetic, and companies have become more aware that they can do something impactful.
She added that the culture of contributing to society in the company encourages employees to come up with new initiatives. For example, last year, an employee came up with the idea of ​​fulfilling a child's dream through the
My Dream Day (Minu Unistuste Päev)
program by getting the child a game console. The employee explained the goal to colleagues, and after that, the money was quickly collected. "It seems to me that smaller and bigger good deeds create new good deeds," Heleri Hanko concluded.
If your company also encourages employees to donate time by offering at least one paid day off per year, you are welcome to join the
"Let's Donate Time"
network. There are no other responsibilities involved, but there is an opportunity to share experiences with other like-minded organizations about giving back and making a difference.
Articles you might also like: