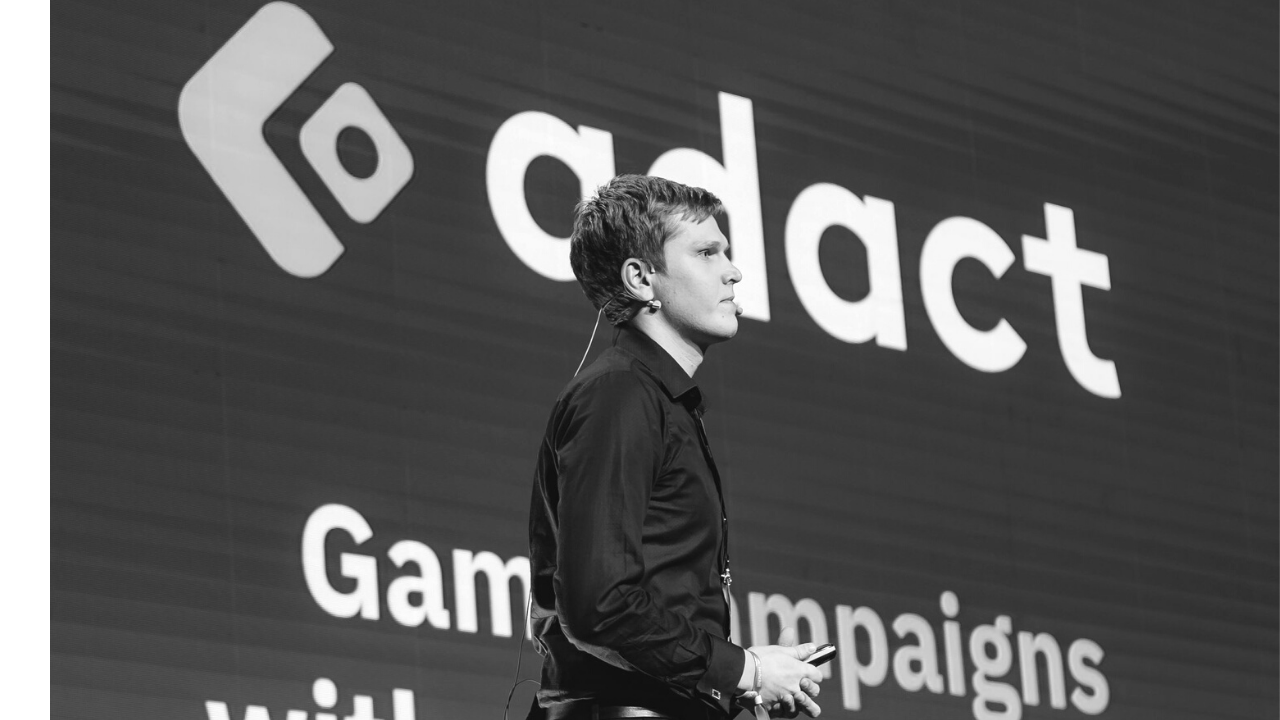 Kalev Kärpuk from Adact: Founders should learn more from the mistakes of others
Kalev Kärpuk is the CEO and founder of Adact, a young gamification marketing startup that allows companies to create engaging gamification campaigns without writing a single line of code. We talked to Kalev about Adact's plans ahead and journey so far – including snapping up a €75k investment from Cocoon Ventures at the sTARTUp Pitching 2021 contest – and the highs and lows of an entrepreneur's life.
This article was written by Angela Korela, member of the sTARTUp Day marketing & PR team


According to Kalev, even someone with below-average IT skills can pull off an eye-catching campaign with Adact as long as they can write a text file on a computer. There are many ways to use the software, with examples ranging from an interactive Christmas card to the European Parliament's quiz about the importance of NATO.
The company has many users both in Estonia and abroad. The clients come from diverse sectors – finance, gaming and the public sector, to name a few. As a constantly evolving startup, Adact regularly reviews its product range that users can purchase access to both for a single campaign as well as through monthly and annual subscriptions.
Adact was born out of Kalev's desire to create something cool that would also earn him a living and be interesting to lead. Having previously been exposed to IT and gaming in Estonia and abroad, he initially thought of branded games that companies could use to entertain their customers in public spaces. He even tested out and implemented the idea, yet ended up creating software for interactive gamification campaigns in early 2020. Adact currently employs a team of seven people – three are located in Estonia and four in Ukraine.
The greatest challenges and victories so far
When asked about tough moments on an entrepreneur's journey, Kalev points out that sometimes it is difficult to be there for everyone as the head of the company. At times, you have to deal with the problems of colleagues, investors and clients while at the same time, some matters need resolving in your own private life. Each of these concerns requires a different approach and commitment, which can become exhausting at times. Coping with the fear of letting down one's loved ones and colleagues is also sometimes a challenge for Kalev: "Everyone says you can do it, but what if I can't? I don't want to let down anyone who puts a lot of faith in me."
It's also difficult to keep up morale during periods when sales are not coming in. "You're trying to find customers for a month, then for another, but still don't close any new deals. This will inevitably lead to moments when you ask yourself if anyone needs what you do at all," says Kalev. Fortunately, the lows are temporary and after a while, new customers always bite the bait.
For Kalev, the most important recognition is customers who have come to the company on their own.
"When a company has tracked us down, learned to use our product, paid €10k for it and is very satisfied with the results, it is quite an awesome feeling."
No less important for the team is that they managed to build a functioning product in just two months and with a budget of €7000 and have completed three rounds of financing in a niche area, raising €790k. "For us, the biggest support has been Startup Wise Guys – without their strong faith and teachings we would not be alive today," says Kalev and also gives a shout-out to Kristjan Raude and Andres Kivistik who have taken on the lead investors role. He says that the confidence that comes with gaining investors' trust has boosted the team's belief in themselves.
Smaller and bigger dreams for future
The company would like to find at least 100 new customers in the near future. "As our product is not cheap, it is an ambitious enough goal," Kalev explains modestly. In the long run, they would like to grow into a company that provides its customers with a comprehensive software platform for realizing their marketing goals. Adact's team focuses on the journey in their daily work, not the finish line: "We don't set ourselves limits or endpoints, but rather follow the idea that the company is growing and developing with us."
Adact was one of seven finalists in the sTARTUp Pitching 2021 competition, where they snapped up an investment of €75,000 from Cocoon Ventures. In addition to the important financial prize, Kalev lists other benefits of participating in the competition.
First, they gained a lot of confidence that what they do is important, which encouraged them to carry on work.
The team also got useful contacts with whom it was easy to continue the conversation because everyone was already familiar with the topic and didn't need a long explanation. It was also possible to exchange ideas and derive new energy from discussions with other community members, with some of whom Kalev still maintains close contact. Participating in the sTARTUp Day 2021 competition also gave the company visibility and helped them land new clients, including some larger customers who had heard about Adact for the first time on the pitching stage.


















Kalev's tips for nascent entrepreneurs
Kalev believes that defiance in a positive sense can fuel success, as the desire to prove to people who did not believe in us otherwise makes us work harder. As a startup founder, keep in mind that busy work life and uncertain future vie for your attention around the clock; yet it is crucial to find time for hobbies and private life. "Sometimes I envy people who can leave work concerns behind in the office at 5 p.m., and only focus on their personal challenges in their free time. But if an idea makes your eyes light up, the results achieved with great efforts are so worth it!"
Kalev also believes that startup entrepreneurs should pay less attention to success stories and instead learn from the failures of others because you do not see what's behind the success, but can avoid mistakes by learning about them. Finally, he quotes the wise words of Dag Ainsoo amid a stressful fundraising period: "Focus your attention on those who care."
Read more about sTARTUp Pitching 2022 and fill in your application to compete for a prize pool of more than €350k.
Articles you might also like: