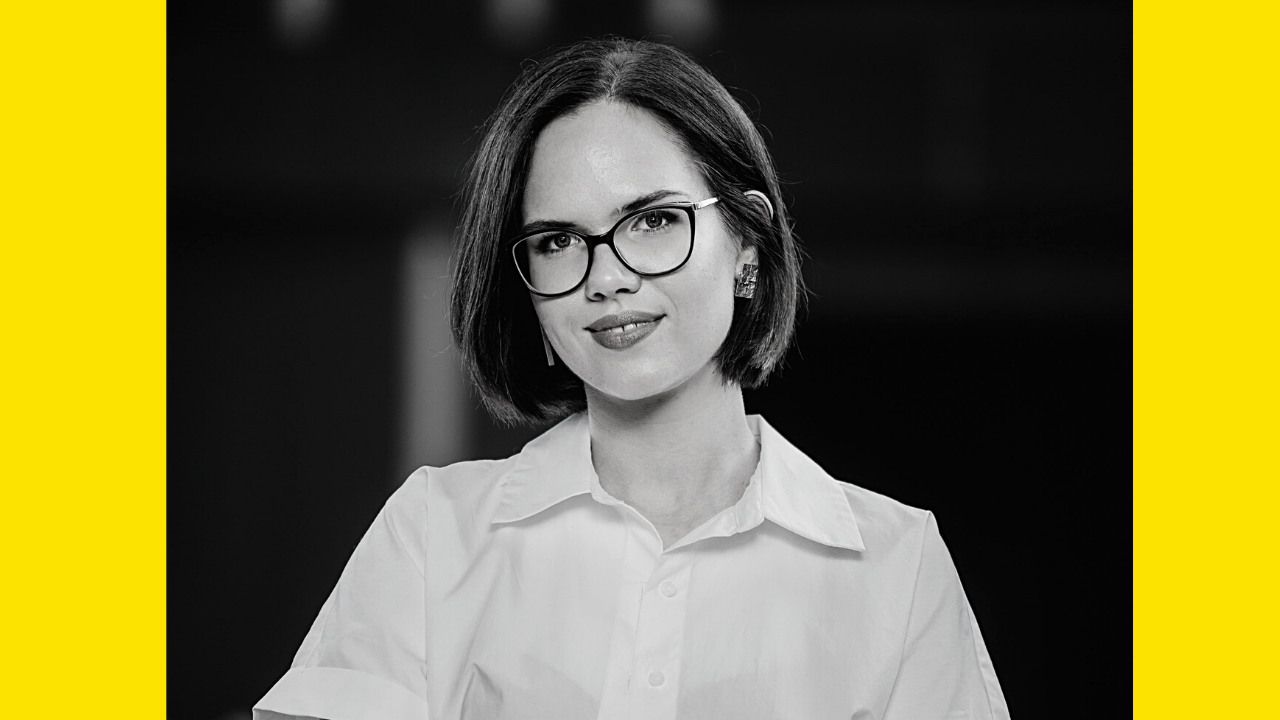 Kirke Leinatamm from Scopus Studio on 3D design, digital fashion, and reducing the fashion industry's footprint
A fashion item with a 97% smaller carbon footprint than a regular garment? Yes, it's possible – in 3D. We explored the whys and hows of digital fashion with Kirke Leinatamm, the founder and CEO of Scopus Studio, ahead of diving deeper into the topic at sTARTUp Day 2023.
Founded in 2020, Scopus Studio helps brands visualize their designs using 3D visualization - a cost and time-effective tool with many possible use cases in the fashion industry from product development to marketing and beyond. We asked Kirke why adopting 3D fashion is becoming increasingly popular among brands and discussed its current use cases and future potential.
The interview was conducted by Katrin Tegova from Tartu Centre for Creative Industries. Scopus Studio is an incubatee of Tartu Centre for Creative Industries.
Tell us a little about yourself and Scopus Studio. What are your main activities?
Scopus Studio is a 3D fashion agency – we do everything from 3D garments to more complex online experiences and also have partners for creating NFT collections and metaverse experiences. Right now, we are pivoting into a more automated workflow, offering our clients quick 3D asset creation, which we are planning to launch this March.
The company grew out of my freelance work. I have a background in fashion – I studied textile technology and then sustainable textile management for my Master's. I wrote my Master's thesis about virtual influencers back in 2019 when there were only five virtual influencer accounts on Instagram; now, the industry has grown massively. I fell in love with the whole concept and idea and decided it would be "my thing." It took me a year, though, to understand how exactly. Then everything started moving very naturally and, to be honest, very fast, as digital fashion just started booming around that time, two years ago.
You are co-organizing the digital fashion program track at sTARTUp Day 2023 and are also building a startup yourself. What is it all about?
By co-organizing the digital fashion track at sTARTUp Day in March, my goal is to explore how this new innovative technology/solution/industry is doing right now in the economic crisis. We'll be talking about current obstacles and real-life experiences of our panelists, including the feedback from the general public on the digital fashion projects they have undertaken.
For Scopus, it has been a rocky road trying to find a way to scale up the business as our clients are also still figuring things out and are a little more cautious, especially right now, during the economic downturn. Nevertheless, we believe in a future where digital fashion is included in our lives seamlessly because, for fashion brands, it makes a lot of sense to use these solutions. Right now, as early adopters, we are still figuring out the key value points.
What is the work process of a 3D designer like? For instance, how much time does it take to create a 3D version of a T-shirt?
A 3D fashion designer has technical fashion experience or background, meaning they must understand at least the basics of pattern making.
In 3D, we sew the pattern pieces together very similarly to real life. We use the cut patterns that the brands use for manufacturing and create realistic product photoshoots virtually.
3D has been in use in the fashion industry for a long time, but it has been sort of invisible, used mostly in product development. Now it is making its way to marketing and even as a basis of the business model itself, so getting closer to the actual end-consumer.
Yet creating a 3D garment is much simpler than a lot of people would think. With a little guidance, someone with no prior experience in 3D could create a realistic visual of a T-shirt within a few hours. An experienced 3D designer creates a hyper-realistic T-shirt render in around 30 minutes.
Where is 3D design most often used?
3D design is being used in several parts of the fashion value chain. Big brands mostly use it for visualizing and communicating ideas in product development. And then, it can make its way up to marketing – producing product visuals for the website or campaign visuals for ads. Now we are also seeing much more that brands are starting to have virtual showrooms, NFT-s even or other solutions like virtual fitting rooms, body scanning etc. For all these use cases, 3D is an integral part – almost all of these solutions use the same 3D file as the base.
What is digital fashion?
Digital fashion is essentially fashion garments created in 3D. The term has a very vague definition and meaning. Basically, the 3D used in the product development phase can be called "digital fashion" as well, though the brands probably don't call it so.
In the past few years, "digital fashion" has increasingly taken on the definition of consumer-faced digital fashion, with the digital fashion platform DressX as the main pioneer.
We talk about digital fashion as a part of the metaverse – what our avatars wear and what we can buy for them. Or the AR filters we can use in Zoom or Instagram – maybe a hat, a piece of jewelry or a T-shirt – this is definitely digital fashion.
Who is wearing digital fashion?
As said, digital fashion doesn't necessarily have to be all about the end consumer, the average person. You might see digitally visualized fashion garments in an online shop; for example, Zara has a 3D viewer for some of their items. The models in the online store might be wearing the item virtually.
Digital fashion is getting more into everyday life as well, for example, through DressX. It is common for gamers and metaverse visitors to buy different outfits for their avatars. Time will tell how it will go – how many of us will be using metaverse and, therefore, become regular consumers of digital fashion items through our avatars.
How sustainable is digital fashion?
Everything leaves an impact on the environment. When talking about fashion which is a highly polluting industry, of course, creating garments digitally has a massively different carbon footprint compared to manufacturing a real pair of pants. DressX has calculated it is 97% less. Though we cannot forget that computer power has its own carbon footprint, and 3D does require a lot of computer power, especially for rendering.
We've also seen the emergence of the first digital fashion festivals, such as Digital Fashion Week and others. What do they look like?
Indeed, especially recently, there have been a lot of metaverse events that are completely free and easy to access. You don't even need to create an account to hop into the metaverse fashion show. So I definitely recommend checking these events out just to get an understanding. It is still quite small-scale, and the number of people visiting these events is not too big, but it is growing rapidly with every event.
Why do big brands find it important to create digital fashion? How does it benefit their business?
Luxury brands are always the ones leading the whole industry as they have the ability to take risks and venture into new areas.
What they are seeking is customer experience and community building, and digital solutions give exactly that, and at quite a low cost.
Metaverse is essentially a way to improve the online shopping experience; NFT-s can be utilized to engage the community. Additionally, everything that is new and exciting creates buzz, so the luxury brands get exactly what they need and want as any other business – that is attention.
Which Estonian designers are creating digital fashion?
For example, Diana Arno has also created digital fashion looks and Xenia Joost is very active in this field. Also, Tallinn Dolls uses 3D models in its online store.
How do you see the future of digital fashion? Is it something worth studying as a young designer?
Digital fashion is here to stay, that is for sure. I'm so certain because of the value it brings to the brands. It enables cutting costs and getting attention and, additionally, enables so many new innovative business models around 3D concepts. I definitely recommend young fashion enthusiasts to study 3D modeling. Actually, most of the big fashion houses already require a basic understanding of 3D and smaller ones are just getting to it.
We'll be discussing the current state and potential of digital fashion on Insight Stage on Day 1 of sTARTUp Day on 16 March.
Articles you might also like: