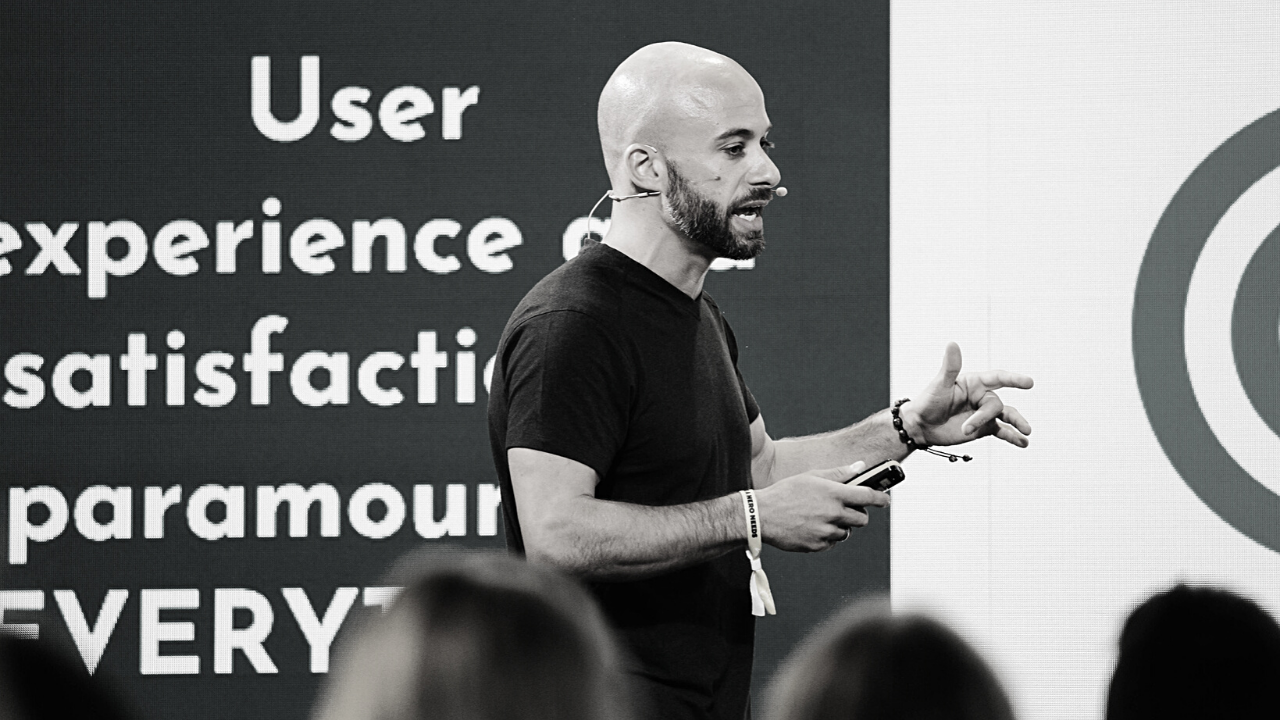 How to grow your business with zero budget? Insights from startup marketing expert Andrew Lee Miller
How can you grow your business with a minimum or even zero budget as an early-stage startup? If you missed the popular talks by Andrew Lee Miller at sTARTUp Day 2021, here's some wisdom from the early-stage startup marketing advisor who really knows what he's talking about.

Andrew has been working with early-stage companies for the past 15 years. After driving growth for three multimillion-dollar startup exits, he now helps companies worldwide scale efficiently with growth coaching and remote consultancy. You can learn more about Andrew on his website
Andrew Startups
.
This interview was conducted by Kristel Kont, a member of the sTARTUp Day Marketing & PR team.

Let's start from the start. What is growth marketing?
Growth marketing is marketing that is focused on growing the business, especially at the early stages. That is actual results, not just branding and influencing, social media likes, and other vanity metrics like that.
It's very easy to grow your business if you have a huge advertising budget, but most companies don't have that in the beginning. So it's important to learn how to do it with minimal resources. And that's what growth hacking and growth marketing are all about.
Who needs growth marketing?
I think every business needs to focus on growth marketing and early-stage companies from the very beginning. One of the main reasons proven by data why companies fail is they don't focus on the right kinds of marketing soon enough.
An early-stage business needs to focus on marketing at the same time that they're focusing on their product and their services. But unfortunately, that doesn't really happen. Instead, the companies think: "We're going to build this product, and then it's going to market itself", or "We're going to build this product, and then later after we raise money, we're going to do marketing."
You have to do marketing from the beginning. Even if you're not going to build the product for six months, you can start with a website that says "Coming soon". Or you can start with social media or a blog.
You can do some marketing even before you have an idea of what you're going to build.
What budget do you need for growth marketing?
You don't need a budget. Obviously, the more money you have, the easier it gets. There's an inverse correlation between time and money. If you have a lot of time and less money, that's fine – you can invest in growth hacking and organic marketing. And if you have no time and have a lot of money, there are things you can do with a budget.
I feel you're more successful, though, if you start with unpaid marketing and figure out what's organically working for the business. What landing page is working the best? What call to action is working the best? What prices, products, or services are people responding to the most? Then you start to put a little bit of money into what's working – and boom!
What are the most important metrics to follow in growth marketing?
Every business is different. For a B2B company, sales and revenue are much more important. For a social media app, it's users and engagement metrics. But overall, at the top of the funnel, it's customer acquisition cost or conversion rate. How effectively is the business converting people to users, customers, clients, referrals?
The second thing a little bit down the funnel is retention or how long the people are staying with your company. Are they coming back and buying something a second time? Are they using your app a couple of times? Those are signs that you've built something that's really useful long-term. You want to have a high lifetime value for every user, so LTV is an important metric for any business.
However, for me, the biggest signal that we're on to something as a business is at the very bottom of the funnel: after the purchase, are buyers referring other people? Are people spreading word of mouth talking about your business organically? If you see that from the early stages, you know you've got a really good business!
Which three tools should every growth marketer use?
I think posting on your own social media pages is a waste of time in the beginning because Facebook, Instagram, and others are making you spend money to grow your social media. So, I like Later.com for scheduling your social media posts and just forgetting about it.
Analytics is the second most important thing or, really, the most important thing. You can't do anything without analytics. If you have a mobile app, you need to have Appsflyer or App Annie. If you have a website, you should use Google Analytics and have your analytics set up. If you have a bigger budget and more event tracking, you can opt for Mixpanel.
Thirdly, SEO is crucial for any business. SEOptimer will give you a free report on things you need to fix on your website and get in better standing with Google. And all you need to have is a developer to implement those suggestions.
Which common misconception around growth marketing would you like to correct?
I think there are two. The first one: people don't focus on marketing early enough. They think they'll do it after they raise money. But how can you raise money, if you haven't done any marketing and don't have any traction? So you have to do something in the beginning. Usually, growth hacking, figuring out ways to grow for free.
The second one: people assume all marketing is the same as advertising.
I meet many founders who say, "I'm going to do marketing when I have a budget. I'll run some ads on Facebook." That's not the same as growth marketing. That's just paid advertising and paid user acquisition.
What's the best way to learn growth marketing?
I've been trying to help startup founders for over ten years by doing seminars and public speaking and ended up creating online courses that can be purchased on my website Andrew Startups.
I have a book ‒ literally called
The Startup Growth Book
‒ out as well. It teaches how to hack influencer marketing, how to do your PR, app store optimization, email marketing, search engine optimization, in short, everything. That's probably the cheapest way that someone can start to learn how to do these things themselves.
But what I've found is most startup founders have too many things to do, so they need help on execution. I think interns work really well, so if you have access to a university, you can find an intern from there and get the book or the courses on my website and work with them to learn these things.
A final question: do you have a routine for coming up with crazy marketing ideas?
Believe it or not, a lot of good ideas come when I'm in the shower. For me, the number one thing is writing everything down. I don't wait to get a piece of paper, I write everything down on my phone, and then I have a list of all my crazy ideas.
With my clients, we have brainstorming sessions at the very beginning of our collaboration. Because I can talk about my previous experiences, but they know about their company and target demographics. So, we have joint brainstorming sessions, where we come up with ideas.
A lot of it also comes from analytics. For example, if we see that there's good traffic coming from Twitter, we ask what we can do to create more exposure there. So looking at the analytics, having brainstorming sessions, and working with a growth marketing expert would help as well!
Articles you might also like: