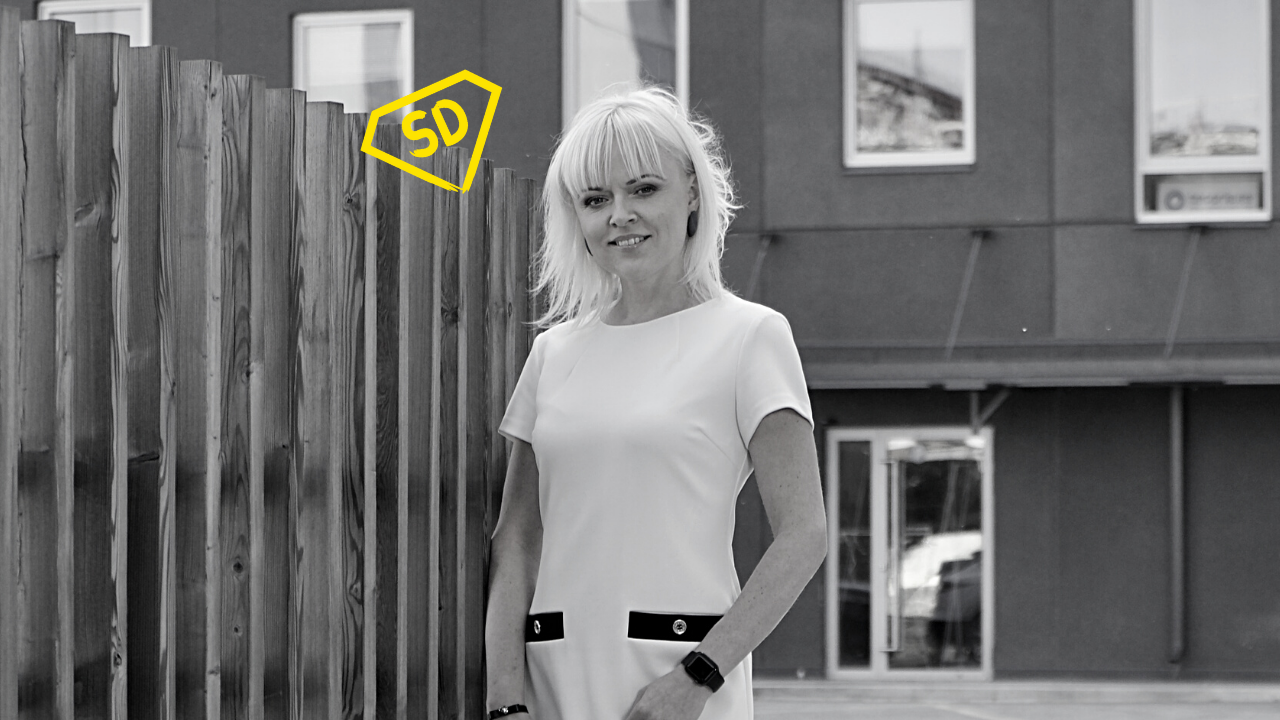 Kadri Tammai: "Everything is possible with empowered people!"
Kadri Tammai
runs the
Tehnopol Startup Incubator
, that helps Estonian early-stage startups conquer the world market. In addition, from this year, Kadri is a member of the board of
Tehnopol Ventures
that assesses the investment readiness of startups and manages Startup Incubator options and holdings in startups.
The interview was conducted by Jaanika Niinepuu, a member of the sTARTUp Day Marketing & PR team.

Explain to a child what Tehnopol Startup Incubator does.
Since children like examples, I'm going to explain it with Bolt. Many children have met Bolt in one way or another: they have either taken a taxi, their parents have rented a car, they have seen or even used these cool scooters. Bolt has grown into a great company that everyone knows. But Bolt also was once small. We are the ones who help small businesses grow into big ones.
What are the biggest challenges you're facing right now?
There are challenges all the time – there are many, and they are awesome. We support very early-stage startups, and that's why the journey is actually quite difficult for them at the beginning.
At that moment, no one believes in you yet, sometimes you run out of faith yourself. In many cases, you also don't know how this journey will go – investors don't invest, you don't have the money either.
That kind of everyday worries and joys. If you then help these amazing people, take the next steps with them and then see the result, their eyes will start to sparkle: they enter foreign markets, everything goes well. At the end of the day, you get the feeling that you have done something good.
How did you become an entrepreneur?
I think the honest answer is that, on a larger scale, I am still thriving to become an entrepreneur. I've been in the status of a small-business owner for some years. I've had a small startup – I've walked this path myself until the point of failure, where I had to admit that it's impossible to move forward, mainly due to the lack of industry-specific developers. However, the heart of a startuper is still burning inside me, and I think that the day will come when I will take on this difficult path of building a startup again.
What are the questions to ask yourself to find out what you want to do in life?
The answer is actually simple, and many people say it, but often don't live according to it: do what you love. Because, usually, you are also very good at what you love. The fact is that everyone has the opportunity to learn to be a singer by training their voice, but for some, it is the true calling, and for some, it is not. When you do what you really love, you wake up thinking about all the exciting things that day brings. When you do something you don't love, you wake up every morning with the thought of all the responsibilities you have to deal with during the day. When you find what you want to do, you're already pretty close to finding out what you are really good at.
But people are comfortable by nature. With the beautiful weather, you just want to sunbathe and eat ice cream…
Yes, but what else do you like to do? In general, people start to think about their hobbies, but it is also possible to turn hobbies into a business. If you think further, you may start wondering about the things you don't like in society – the things you would like to change.
People have the power to provoke change in society. If something really disturbs you and you believe you can improve it, you should try to do it!
What are the personality traits that help a person to become successful?
You should be curious. If you think you already know everything, you don't grow anymore. On the other hand, it is important to be persistent. You don't just wake up in the morning and give up your dream to a hot summer day and only eat ice cream – you should constantly move towards the goal you have set for yourself and not give up on the first difficulty.
As I have a marketing and PR background, I also believe that good communication skills will help you succeed. That can be useful when communicating with friends and colleagues or selling your product or service.
Is it possible to develop good communication skills?
Absolutely! Some of the founders of startups are also very introverted. Estonia is unique in that we have many founders with high technical skills, but are not necessarily good at marketing and communication, sales, or exports. But it is always possible to learn. For example, you can learn public speaking, negotiation skills, even empathy.
What have been the greatest victories along your journey?
I think there is not one big thing, but a series of small ones. I'm not afraid to take risks or fail. My greatest success is that I have been able to make such good choices that I am surrounded by super awesome people. And as a result, your own results become 200 times better. The last great choice was joining the Startup Incubator. I really am the person who wakes up every morning looking forward to all the interesting things a new day can bring – my eyes are shining early in the morning, and I am curious about my life.
In the last five years, what new belief, behavior, or habit has most improved your life?
The belief that new things are born through risk-taking. You have to be willing to take risks. Even though risks can lead to success as well as failure, both are fine! Also, the knowledge that everything is possible with powerful people. By a powerful person I do not mean a big title, but an empowered person. Thirdly – as the years go by, the more I have to admit that good sleep ensures a good result. I'm like a bear in that sense and really like to sleep. If I can't get a good night's sleep in the middle of the workweek, I'll do it on the weekends.
You said that it is okay to fail. During your road to success, were there moments where you thought that you are going to fail and this whole thing will not take off?
I guess I haven't had a huge failure. At the same time, I really believe that failure is okay. Maybe I have always actively tried to do something along the way when I see things are going totally wrong. But I'm also ready to let go, I'm not stubborn.
There are smaller failures all the time, and you can always learn something new and exciting from them. The investment world is big and charming. I'm not afraid to admit if there are things I don't know. This inevitably means that every day there is something that doesn't exactly go the way I thought. But that's okay!
How do you assess the ability of our startups to come up with ideas and implement them?
Our capability is super good! Estonia is just full of awesome people, and this, in turn, attracts great people from all over. Surely we do not suffer from a shortage of ideas. Sometimes there could be more persistence so that ideas would actually be implemented and not left only at the idea level.
My biggest recent challenges are related to deep tech companies. We have reached an era in the startup ecosystem where not only classic software or IT solutions are in the spotlight, but we have more and more deep tech companies. Working with them is somewhat different and insanely exciting!
What kind of help do startups need the most?
They need a patient mind and more patient money in the early stages. At our Startup Incubator, we also try to be a mission-based program that supports these companies for a longer period so that things can actually be implemented: that not only would their pitch look nice, but they are also ready to raise money.
In Estonia, the deep tech companies haven't gotten enough attention yet.
The startup sector as a whole is doing super great. There is ambition, action, and even money. But deep tech companies are right now where the startup sector in terms of IT solutions or software was ten years ago. There we need to make the next move and put the pedal to the metal.
If you had one superpower as an entrepreneur, what would it be and why?
I guess people always want the things they don't have – who has short hair, wants long, etc. I am, also according to others, very good at sales. I'm a good salesman: I can explain, talk and sell things. What I am not that good at, and what my superpower could be, is patience. I'd like to be more patient. I have improved a lot in this over the years, but I think there is still a long way to go.
What makes you excited about the future?
Many things. That my sons would grow to awesome adults. I'm making jokes about having my own startup at home: one of my sons wants to become an engineer or inventor, and the other one is like me – he can sell absolutely anything to anyone. They would make a great startup team! Actually, I am really waiting for them to do it. Also, I'm waiting for the Estonian startup sector to make 30% of Estonia's GDP.
Tehnopol Science and Business Park supports state-of-art technology entrepreneurship in Estonia and helps it expand to the world. As a partner of sTARTUp Day, Tehnopol plays an important role in organizing the World's Largest Business Speed Date!
Hero of the Week is a column focused on inspirational entrepreneurial people around us – their journeys, success stories and lessons learned from failures, goals, inspiration and everything in between. Get inspired and be the Hero of your own life!
Articles you might also like: