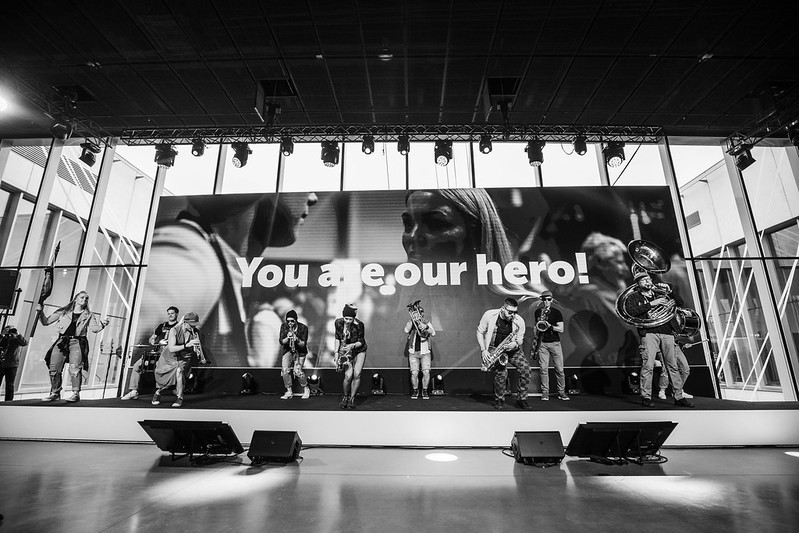 We're ready, are you? The 6th sTARTUp Day season has officially kicked off!
While the emotions from sTARTUp Day 2021 are still high in the air, it's time to kick off the next festival season. The great news ‒ instead of waiting for an entire year, we can meet again already in 120 days! As always, we'll bring you an intense program of world-class speakers and practical seminars, plenty of networking opportunities, and the best festival atmosphere. It's time to reveal the first speakers and topics of sTARTUp Day 2022!

After an exceptional summer fest, the 6th edition of sTARTUp Day will return to its familiar setting and take place on 26-28 January 2022 at the University of Tartu Sports Hall. We expect to host over 3000 start-up-minded attendees and over 100 inspiring speakers from all over the world and fill the whole city with an entrepreneurial spirit for three days.
From embracing innovation to empowering entrepreneurship
"This year's main program will have two focuses. On day one of the festival, we'll explore innovation in various sectors from mobility to energy, and smart cities to entertainment and game development," explains Mart Lättekivi, Head Organiser of sTARTUp Day 2022. "We will learn how scientific advances and new technologies are shaping the future of business and the world in general through keynotes and panels involving local and international experts."
"On day two, we'll switch the focus to the company and personal level, as we'll drill down on how to build great companies and lead satisfying lives as individuals. We'll hear unique first-hand accounts of scaling companies and summiting Mt Everest, and delve deep into topics like entrepreneurial impact, food tech, founder psychology, mental health, and self-development, to name a few," he adds.
Where business meets networking meets celebration
In addition to two stages filled with a program covering diverse topics, we'll treat you to a dense seminar program where you can pick up practical startup skills from top practitioners.
Naturally, there will also be the traditional pitching competition (can we surpass the 2021 record of 330 startups from 51 countries), a bustling demo area, matchmaking and speed-dating to pocket a year's resource of new contacts, the legendary sTARTUp Night networking party, and numerous side events. On 26 January, we'll host Investor Day and have something special in mind for the executive ticket holders, too.
In short, we're determined to give our absolute best to bring to you the finest speakers and the most extraordinary festival experience, plus a ton of surprises!
As the first 25 speakers of the festival have been announced, let's get to know some of them.
Eric Edmeades
Eric is a world-class expert in behavioral change and a seasoned entrepreneur with more than two decades of experience in multiple areas from health to Hollywood. He has shared the stage with leading experts like Sir Richard Branson and President Bill Clinton, and logged over 10 000 hours on stage, covering topics like health, business, and public speaking.
Patrick Flesner
Patrick is a growth capital investor and a partner at the investment firm LeadX Capital Partners. Each year, he looks at hundreds of tech companies that want to raise capital to accelerate growth, sees patterns in companies that fail and companies that succeed. His respective growth expertise and knowledge deriving from more than 16 years in Private Equity and Venture Capital have gone into his latest book "FastScaling".
Laura Hof
Laura is an influencer in the wellness space, focusing on cold exposure and breathing techniques. She is the CEO of Alchemy Mind Body Soul, and travels worldwide to give Wim Hof Method Workshops. She is the daughter of "Iceman" Wim Hof, a Wim Hof Method Instructor, a nutritionist, and a Reiki Master.
Check out the rest of the speakers and follow our news as we'll be adding new speakers every week.
PS. We also recommend you secure your ticket early, as prices will hike in mid-October. And if you don't want to wait until January to experience the festival vibe, check out the most memorable moments of the last year's festival in this short video!
Articles you might also like: